Image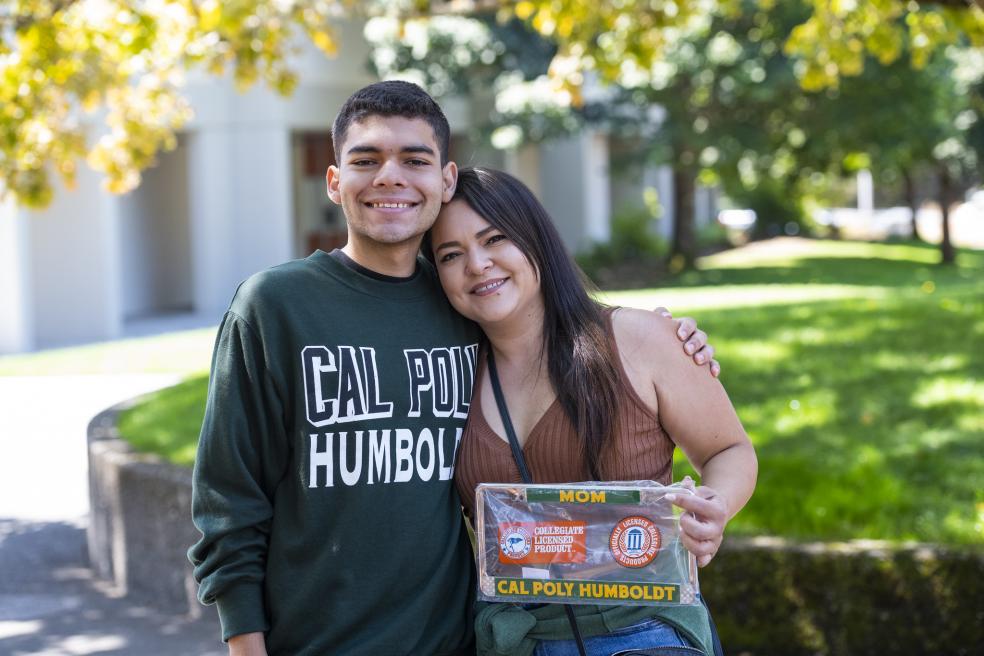 Approximately 1,200 new Humboldt students are expected to move into University housing during move-in week, which began on Saturday, Aug. 12.
It was a clear, warm morning as incoming students arrived on campus, where they were greeted by local businesses and University staff, organizations, and athletes who helped them move into their new residences.
Incoming students—including first-year and transfer students—and their families shared embraces, and feelings of excitement, pride, and exhaustion as they made their way to University residences with boxes, suitcases, and bedding in tow.
Many made the trek from Central and Southern California, the Bay Area, and from out of state, traveling hundreds of miles from their hometowns to live and learn in the North Coast.
The University is on track to meet its enrollment goals as it introduces 10 new polytechnic programs this Fall, including Applied Fire Science, Energy Systems Engineering, and Geospatial Science & Technology.
Navina Cedillo, a first-time student from Sacramento, plans to study Marine Biology—one of Cal Poly Humboldt's new majors. She is excited to be a part of the first cohort, and gain practical experience while learning about the people and places in Humboldt through Rising Tides, one of the University's Place-Based Learning Communities (PBLC). Learning communities connect new students to Humboldt and to each other as they are immersed in a tight-knit group of students who share their interests.
"I'm a very hands-on learner, so [I look forward to] being able to get my hands dirty and focus on what I actually want to learn," she says.
Cedillo, who has Yurok heritage, said the University's focus on STEM majors and opportunities to work with Indigenous populations is what drew her to Humboldt. "This is going to give me an opportunity to be more involved with the Tribe than I ever have been."
Like Cedillo, many incoming students were drawn to Humboldt because of its beauty. Sam Piafsky, Social Work major from Laguna Beach, says he chose the University because of its location and people. "It's gorgeous, and it's also small and tight-knit. And all of those things speak to me."
Martin Mendoza, a Data Science major from Oakland, says learning something technical here feels natural to him.
Mendoza will also be in the first cohort of students to study in one of the University's new degree programs that launch this Fall.
"I expect to learn by doing," he says. "Analyzing the data will allow me to make the most accurate predictions for the environment."
Humboldt is a perfect fit for Cadence Larson, a first-year student from Petaluma, who plans to study Critical Race, Gender & Sexuality Studies and Native American Studies.
The ability to combine her interest for gender and cultural studies is what drew her here. By incorporating these fields into early childhood development, Larson hopes her Humboldt education will help change little lives.
While incoming students prepare for the academic year, family members shared their advice for the journey ahead.
"Budget well, stay focused, and call me often," says Christina Cedillo, Navina's mom. "This seems like a great place to absorb a lot of opportunities, so take advantage of those."
Students begin exploring their new homes and communities during orientation week, which include visits to local waterways, businesses, schools, murals and more with the University's PBLC summer immersion programs. Learning communities connect new students to Humboldt and to each other as they are immersed in a tight-knit group of students who share their interests. Orientation activities throughout the week include a Wiyot Welcome, an Extreme Body Percussion Performance, a resource fair, and more. 
The Fall semester kicks off as classes begin on Monday, Aug. 21. A series of welcome events includes activities and ice cream on the Quad during the Green and Gold Welcome on Sunday, Aug. 20, a Snow Cone Social on Tuesday, Aug. 22, a part-time job fair on Wednesday, Aug. 23, and more. See the Humboldt Events Calendar for more information.