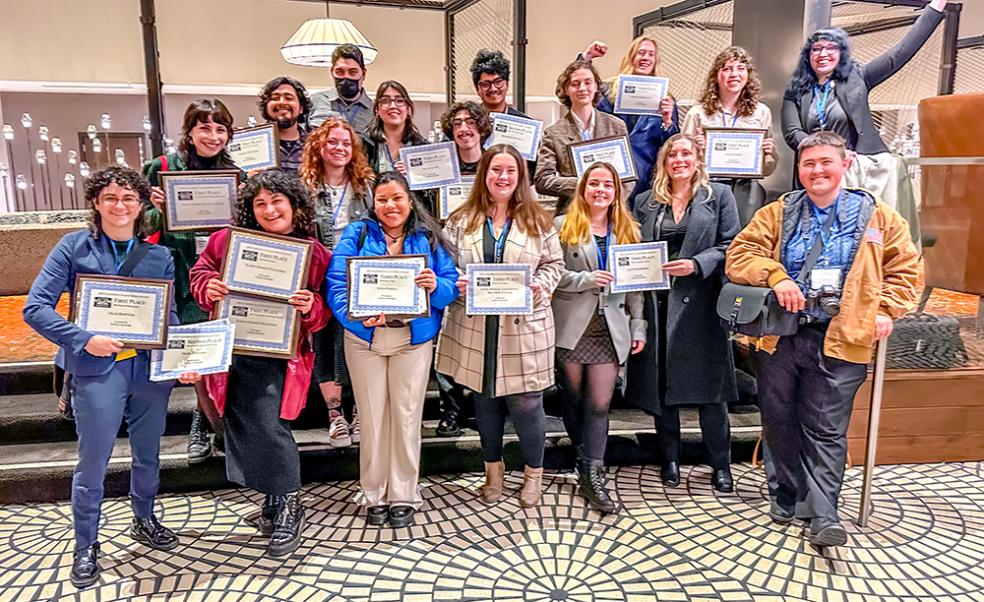 El Leñador, Cal Poly Humboldt's monthly bilingual student publication, won a First Place Best of Show award at the 2023 Associated Collegiate Press (ACP) Spring National College Media Conference in San Francisco in March.
The paper also took third place in the ACP People's Choice category and staffers went on to win awards in 16 more categories judged by the California College Media Association. Five of those were first place honors given for photographs, newspaper design, illustration and editorial cartoons.
Karina Ramos Villalobos, co-editor-in-chief of El Leñador for the 2021-2022 academic year, won 10 awards (combined individual and team awards) this year – one more than the nine she carried away last year. Villalobos graduates in May. She's been on the El Leñador staff for six semesters.
"It still feels like a shock to win 10 awards, this was a community effort," Villalobos says. "This is clear recognition that we deserve to be in this industry. We deserve to share our stories that we know best. These awards are for my Salvadoran community, my parents and all my mentors, friends and peers. We did this collectively."
Villalobos attributed some of the paper's success to El Leñador adviser Andrea Juarez. She said she has seen her writing, photography, video and design skills grow significantly through her student media experience. 
"El Leñador has felt like a full time job as a student," Villalobos says. "It has fueled my passion for local journalism forever." 
The Lumberjack, Cal Poly Humboldt's weekly student newspaper, took home 12 awards including four first place wins for best sports photograph, arts and entertainment story, headline portfolio, and infographic. 
Ollie Hancock, editor-in-chief of The Lumberjack in fall 2022, won seven awards (combined individual and team awards), including first place for sports photo, and arts and entertainment. Hancock graduates in May.
"I'm so proud of everyone on LJ staff, past and present," Hancock says. "These awards celebrate the hard work The Lumberjack staffers put in every week. I am especially proud of the award we received for our Title IX coverage."
Osprey, Cal Poly Humboldt's student-run magazine, placed third in the best digital magazine category.
This year, 20 students attended the journalism conference. They participated in workshops and led roundtable discussions on how to improve coverage of communities of color and reporting on transgender communities. Students also networked with professionals, peers and publication advisers from across the country.
Jessie Cretser-Hartenstein, Osprey adviser and Journalism professor at Cal Poly Humboldt, gave two presentations at the ACP conference on journalism research, scholarship and creative activities for students and faculty. 
"The ACP conference provided a whirlwind of opportunities for students to explore their journalistic passions," Cretser-Hartenstein says. "Our students showed up excited and left inspired. Getting 20 students down to San Francisco to attend a national conference was no easy task, but it was totally worth it. Experiences like this will stick with them forever and THAT is how we support student success."
The Lumberjack adviser Deidre Pike says she was bursting with pride over the accomplishments of Cal Poly Humboldt's student media teams.
"Our students are remarkable thinkers, writers, editors, and visual storytellers," Pike says. "They work long hours every week to make sure the campus is informed. They are becoming well prepared to go out and make media as a profession."
Complete list of awards:
Associated Collegiate Press Spring National College Media Conference -
March 11, 2023, San Francisco
El Leñador
First Place  -  Best of Show

Third Place - People's Choice 
California College Media Association - March 11, 2023, in San Francisco
Osprey
Third Place - Best Digital Magazine – Osprey Staff
Lumberjack
First place 
Best Sports Photograph - Ollie Hancock

Best Arts and Entertainment Story - Kianna Znika and Ollie Hancock

Best Infographic - August Linton

Best Headline Portfolio - Alana Hackman
Second Place
Non-breaking News Story - Ollie Hancock

Newspaper Column - Lex Valtenbergs
Third Place
Feature Photograph - Cash Rion and Ollie Hancock

Editorial Cartoon - Ollie Hancock

News Series - Angel Barker, Liam Gwynn, Matthew Taylor

News Photograph - Ollie Hancock

Illustration - Ollie Hancock

Sports Story - Dezmond Remington
El Leñador
First place 
Best Photo Series - Karina Ramos Villalobos

Best Feature Photograph - Abraham Navarro

Best Photo Illustration - Peyton Leone

Best Newspaper Front Page Design - Karina Ramos Villalobos

Best Editorial Cartoon - Abraham Navarro, Peyton Leone, Guillermo Noe Salazar
Second Place
Newspaper - Alexandra Gonzalez, Karina Ramos Villalobos, Ricardo Lara Nava, and staff

Social Justice Coverage - Steffi Puerto, Danielle Hendrickson, Angelina Ramirez Peirano

Overall Newspaper Design - Karina Ramos Villalobos, Elizabeth Lachman, Evelyn Bañuellos

News Photograph Ricardo Lara Nava

Illustration - Abraham Navarro

Non-News Video - Karina Ramos Villalobos, Peyton Leone, Abraham Navarro, Steffi Puerto
Third Place
Newspaper Website - El Leñador staff

Breaking News Story - Peyton Leone

Special Issue/Section - Alexandra Gonzalez, Karina Ramo Villalobos, Elizabeth Lachman, Ricardo Lara Nava, Frank Rocha, Peyton Leone

Podcast - Karina Ramos Villalobos, Peyton Leone, Ricardo Lara Nava

Best News Video - Steffi Puerto