From February 14 through 18, over 1,000 students and faculty drawn from 121 college and university campuses in nine states will converge on Humboldt State University for the regional Kennedy Center American College Theater Festival.
This is the first time HSU has hosted a festival for Region VII, which includes Alaska, Colorado, Idaho, Montana, Oregon, Washington and Wyoming as well as northern Nevada and 19 campuses in northern California. HSU last hosted a Festival in 1999, when it was in Region VIII.
For student participants it is an exciting and crowded week of art, learning and competition. Some will unload and set up sets for their school's production in the Van Duzer Theatre on a tight schedule, observed and evaluated every moment. Actors begin several rounds of auditions to compete for scholarships, or audition for the winning ten minute plays and one act plays that will be presented in Gist Hall Theatre. They stretch and sing for the Musical Theater Showcase in the Native American Forum.
They direct scenes or write reviews. They attend worshops in all aspects of theater—more than 70 are scheduled--from stage swashbuckling to interpreting Shakespeare, creating prop food and "reproductive padding," to working with LED lighting and fiber rope rigging, or learning how to nail that singing audition and when to join Actors Equity. And they go to plays and readings to see the best from other schools, or to root for their friends. "It was one of the busiest weeks of my life," recalls HSU graduate student Calder Johnson of an earlier festival, "and one of the most exciting."
The four plays selected for full productions at HSU are: Angels in America—Millennium Approaches from St. Mary's College of California on Monday (February 14), Xtigone from CSU East Bay on Tuesday, The Time Machine, or Love Among the Eloi from Ohlone College of California on Wednesday, and UP from the University of Idaho on Thursday. All of these shows are at 7:30 pm in the Van Duzer Theatre. The public can attend by purchasing a day pass for $20 at the JVD Box Office, which will also admit them to other Festival events that day.
The Keynote Event will be a special performance by Dell'Arte International on Friday at 1:30 pm in the JVD. Jay Duckworth, Props Master and properties designer for the Public Theater in New York, is the Keynote Speaker at 3 pm on Thursday in Gist Hall Theatre.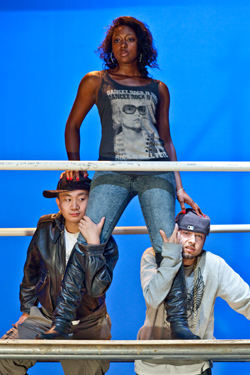 The infusion of well over a thousand people will involve more than the HSU campus. Visitors will stay in local hotels, eat in local restaurants, visit local tourist attractions. HSU will provide shuttles to and from 5 hotels, with Festival discounts at another 8 hotels in Arcata and Eureka. According to Brenda Bishop of the Arcata Chamber of Commerce, local businesses posting "Welcome ACTF Participants" signs will offer discounts to those wearing a KCACTF registration badge.
In addition to serving as the host, the HSU Department of Theatre, Film and Dance is represented among the six finalists in the Ten Minute Play competition. Sweet Mother of God by HSU student Kristin Mack, which was first presented in the HSU 2009 Ten Minute Play Festival, will receive a staged reading. Two of these Finalists will be considered for performance at the Kennedy Center during the national KCACTF convention.
Preparations at HSU have been underway since last spring. HSU coordinator Rae Robison has been working to create a "green festival," with Festival updates on Twitter and other digital systems to replace paper messages. "Support for the event on campus and in the community has been really terrific," Robison said. "The Festival is a wonderful opportunity for our students, in all the arts especially, and I hope they participate."
If attending the festival can be memorable, participating in the responsibilities of the host school can be life-changing. It was for theatre MFA graduate student Calder Johnson, a first year undergraduate without a major when he worked as a volunteer on the 1999 festival at HSU. "It left an indelible impression on me," he recalls.
Started in 1969 by the Kennedy Center's founding chairman Roger L. Stevens, the Kennedy Center American College Theater (KCACTF) is a national program to help improve the quality of college theater that involves 18,000 students from 600 colleges and universities nationwide.
Since its inception, KCACTF has given more than 400,000 college students the opportunity to have their work critiqued and to receive national recognition. More than 16 million theatergoers have attended some 10,000 festival productions.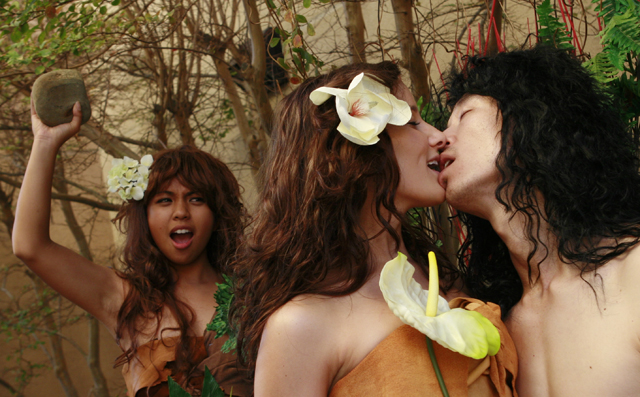 Throughout the year theater faculty at member schools serve as adjudicators, who are invited to visit campuses to evaluate student productions. Then a regional committee selects four to six productions to showcase at the regional Festival. There currently are eight regions, each with a festival in January or February.
At the regional festival the productions are evaluated by a panel selected by the Kennedy Center and the KCACTF national committee. From the winning productions at all eight regional festivals, four to six are selected to appear at the national festival at the Kennedy Center later in the spring.
There's a similar process in other categories. Selected actors will compete at HSU in a three-step audition process for scholarships. There are competitions in scenic, lighting, sound, costume and makeup design, as well as theatre crafts and technology, stage management and scholarly papers. The production that sets up in the Van Duzer Theatre most efficiently gets the coveted Golden Hand Truck. (The University of Wyoming won it last year.) Festival awards will be announced at the closing event on Friday at 7:30 pm in the Van Duzer.
HSU theatre professor Bernadette Cheyne, involved in running the acting auditions this year, was chair of what was then the Theatre Arts department during the last festival at HSU. "It's an extraordinary opportunity for students to share their work with others from seven states, to have their work evaluated, to see what others are doing and go to amazing workshops," she said.
"Besides," she added, "it's fun."
For information on day passes and festival registration, call the Department of Theatre, Film & Dance office at 826-3566. There will be continually updated information before and during the Festival at the HSU Stage & Screen website (http://HSUStage.blogspot.com.)