This Fall, Humboldt State University's reimagined student union has opened its doors as the Student Activities Center (SAC). A place to make new friends, grab a burger, or unwind between classes, SAC offers something for everybody on campus.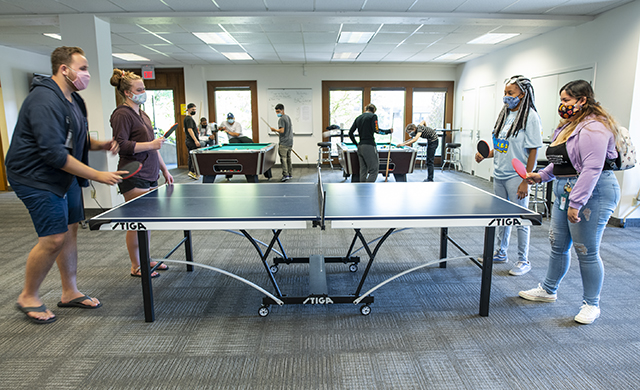 "This space was designed for students by students," says Wendy Sotomayor, SAC director.
Housed in the former University Center building, SAC was launched this semester with direct input from students on their vision for a campus space that fostered wellbeing, a sense of community, and fun. What did students come up with? Imagine your favorite summer camp, minus the mosquitoes and camp counselors, plus board games, table games, milkshakes, craft beer and kombucha on tap, bean bag chairs, a movie lounge, and vintage arcade games.
"From the first week of this semester, students have been hanging out, connecting, and having fun," says Sotomayor. "It's wonderful to see.
Previously, much of the building where SAC is housed was dedicated to quiet study space and generally underutilized. Now all three floors of the Center are maximized to keep students engaged with campus, from new local eateries like Bigfoot Burgers and Hey Juan Burritos, to information about student clubs and campus safety.
"It's a really lively space with lots going on," says Sotomayor.
During the first week of school, students have been visiting SAC to play pool, ping-pong, and air hockey in the second floor gaming lounge. Controllers for XBox and Nintendo Switch are available to play games like Just Dance, along with a few classic arcade games like Pac-Man and Frogger—no quarters required. Board games like Sorry, Life, and Monopoly have been popular, along with coloring books and the movie lounge.
Within SAC, the former Kate Buchanan Room has been renovated into a multi-purpose student space that's part study lounge and part movie lounge, streaming back-to-back films during open hours. And every Friday night, students can watch a feature film on the big screen.
More than a space to take a brain break, students can also access the Student Health & Wellness vending machine on the first floor for supplies like Ibuprofen and contraceptives.
Other niche spaces in SAC include the commuter student lounge, where students who live off-campus can find hot coffee, couches, charging stations, and a small kitchen to warm up meals. Like all services at SAC, the commuter lounge is free of charge. "It's like a home away from home for our students," explains Sotomayor.
Additional services are offered by the newly minted Student Life & Event Services, which oversees SAC, CenterArts, the Office of Student Life, and Conference & Event Services. The second floor SLES counter is a hub for information about student clubs, planning campus events, CenterArts and Athletics tickets, and more.
"A lot of hard work came to fruition to make SAC a reality this semester," says Dean of Students Eboni Ford Turnbow. "We appreciate all the creativity, and collaboration between students and staff that have made student life a top priority on campus."
Once state and University COVID-19 regulations allow, a grand opening for the Student Activities Center will be planned. Additional events like open mic night, student comedy shows, and the much-loved Free Cookie Friday, are all in the works.
"This space is going to keep evolving depending on our students' wants and needs," says Sotomayor. "Above all, our priority is students' wellbeing and making sure they're having fun on campus."
For more information, visit sles.humboldt.edu/sac or follow @hsusac on Instagram.