Image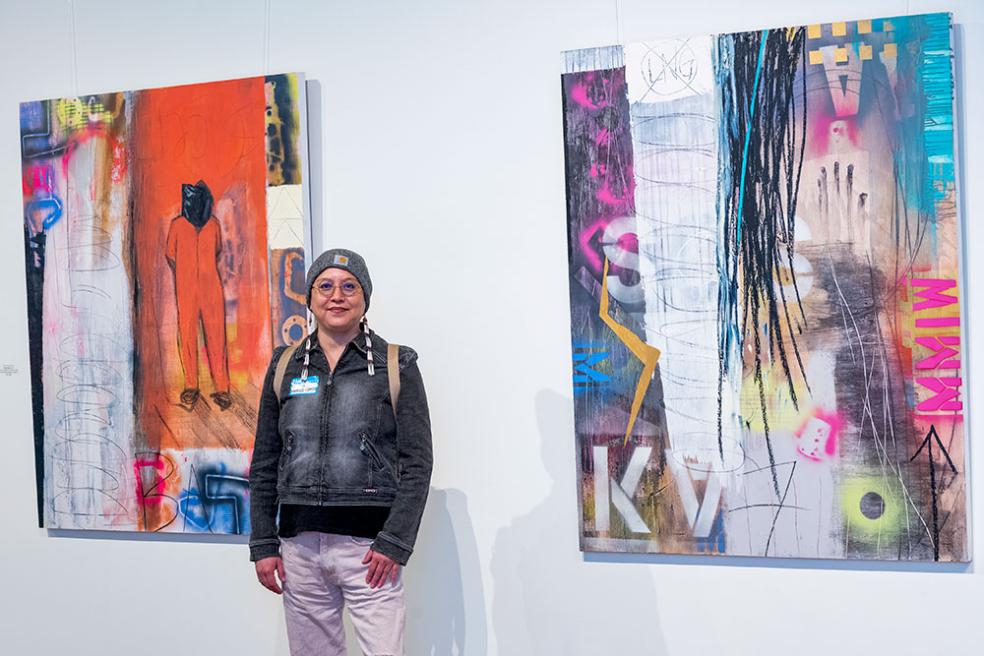 Cal Poly Humboldt's Goudi'ni Native American Arts Gallery presents LAND BACK: Artwork of Ka'ila Farrell-Smith, a visual artist, writer and activist located in Modoc Point, Oregon. Featuring paintings and traditional Indigenous art practices, she explores the space between the Indigenous and western paradigms.
The LAND BACK body of work is made up of abstract paintings utilizing wild-harvested pigments from Klamath lands and aerosol stencils of metal detritus found on the ranch land at Modoc Point Studio. Created while reconnecting with the land and collecting findings to use for the works. Ka'ila's studio practice blends activism, research, and land-based art practice into this body of work.
The exhibition will host an Opening Reception and Art Talk on Thursday, March 23 from 4:30-6 p.m. at the Goudi'ni Gallery. The event is open to the public.
The exhibit is open to in-person viewing four days a week, and presented virtually at art.humboldt.edu/galleries. In-person viewing hours at the Goudi'ni Gallery are: Wednesday/Thursday 12-6 p.m.; Friday 11 a.m.-5 p.m.; Saturday 11 a.m.-2 p.m. The gallery is closed Sunday-Tuesday. Also open via appointment, please contact the Gallery Director at rbg@humboldt.edu, or call 707-826-3629.
The Goudi'ni Gallery is located on the bottom floor of the Behavioral & Social Sciences Building at Union/17th streets on the Cal Poly Humboldt campus. Parking is available through the City of Arcata at meters along Union Street, or at the campus lots near the BSS building. See parking.humboldt.edu for current campus parking information.
LAND BACK was installed by the Art + Film Dept Museum & Gallery Practices class under the direction of Assistant Professor Berit Potter and Gallery Director Brittany Britton, and was partially funded by Instructionally Related Activity Fees. For more information contact the Gallery Director Brittany Britton at rbg@humboldt.edu or 707-826-3629 or visit the gallery website.