Victory came down to the wire for the HSU Jacks on Thursday, as the team took on the Central Washington Wildcats. The game was nationally televised on CBS Sports Network.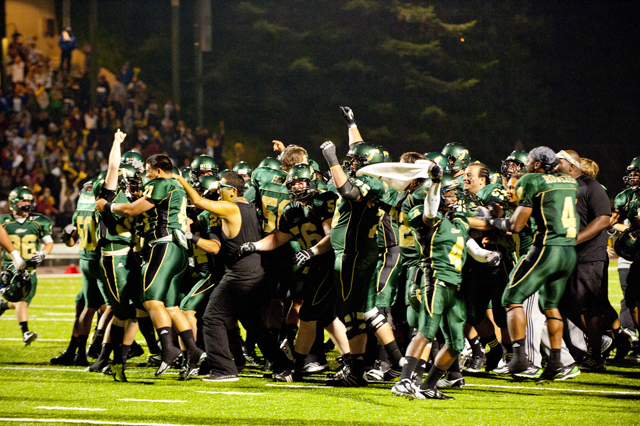 Nearly a year ago, Humboldt State placekicker Brian Blumberg found himself in the hero role after kicking a last-minute field goal to lift Humboldt State to its first win over Central Washington in 15 years. On Thursday, Blumberg waited until the final seconds this time—2.5 to be specific—to deliver a 27-yard field goal that provided HSU with a 38-36 win over the rival Wildcats.
In early September, wins don't come any bigger than Thursday's victory, which gave the Jacks a 1-0 Great Northwest Athletic Conference (GNAC) record and 2-0 record overall. Central Washington, five-time defending league champions and ranked No. 22 nationally in the preseason NCAA Division II poll, opened its season 0-2 for the first time since 1999, and first time ever against two Division II opponents.
Televised nationally on CBS Sports Network in front of the largest Redwood Bowl crowd since 1968, the game lived up to every expectation of a made-for-TV special. Humboldt State took a 21-13 lead into halftime, but hurt its chances by turning the ball over three times, including two fumbles on successive fourth-quarter drives by star running back Lyndon Rowells, both of which led to Wildcats' scores.
Rowells more than atoned for his miscues, however, contributing three key runs, including a 4-yard rush to the 10-yard line that set up Blumberg's heroics that sent the crowed of 7,131 fans into a frenzy. Rowells finished the evening with 111 net yards rushing on 26 carries,
"I'm so happy that Lyndon Rowells because he is such a great kid," Humboldt State head coach Rob Smith said. "To put the ball on the ground twice isn't something that happens to him. He went right back out and did what we needed him to do, and our offense picked him up."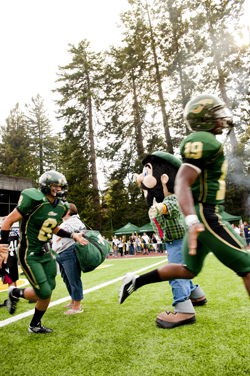 Also bouncing back after throwing an interception that appeared to end the Jacks' hopes with 3 minutes, 29 seconds remaining was quarterback Mike Proulx. The senior from Castro Valley got another chance when the Jacks' defense forced the Wildcats to punt on their next possession with 2:25 remaining. Tackle Andrew Iupati came up with two key tackles to stunt CWU's drive.
Proulx and company took over on their own 25-yard line, quickly moving all the way to the CWU 24 on two catches by Dirk Dallas, including a 23-yarder. Proulx rushed the ball 23 yards himself to keep the drive moving before the Jacks intentionally let the clock down to 2.5 seconds before calling timeout and sending Blumberg out on the field.
"What a great drive that was with less than two minutes to go," Smith said. "Mike was making great decisions on when to run the ball and when to pass. To do that against an outstanding Central Washington defense is a real tribute to our guys."
Central Washington scored the game's first touchdown, taking a 7-0 lead on Anthony Spain's 21-yard touchdown reception of Ryan Robertson's pass with 18 seconds left in the first quarter. Humboldt State started the second quarter off with a 7-play, 74-yard drive that tied the score at 7-7 when Rowells scampered into the endzone.
Central scored again on its next possesion, taking a 13-7 lead when Louis Davis, Jr. went over the top for a 1-yard plunge, but the PAT kick failed.
Humboldt State finally grabbed a lead when Rowells rushed across from 4 yards out, a play that was set up with a 50-yard pass completion from Proulx to Kevin Miles. Blumberg's point-after kick gave HSU a 14-13 lead with 2:41 remaining until halftime.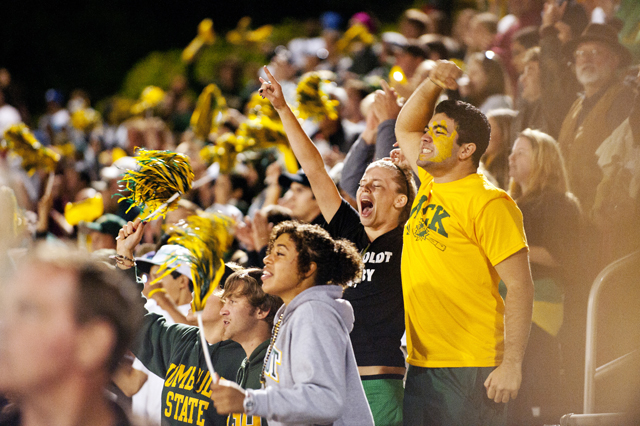 Central drove the ball to the Jacks' 23 yard-line, but Lumberjack cornerback Jordan McGowan-Smith blitzed to sack Squires and force a fumble. McGowan Smith scooped the ball up, racing 58 yards to the endzone for a 21-13 HSU lead just before the break.
On their opening drive of the second half, the WIldcats drove downfield without much resistance, finishing with a 6-yard rush by Robertson and PAT that cut the lead to 21-13. Humboldt answered wtih a 9-play, 64-yard drive capped by Rowells' third touchdown, this time on a 12-yard burst through the middle.
The teams traded touchdowns again on their next two possesions, Central cutting the lead to 28-26 on another 1-yard run by Davis before Humboldt State came back to take a 35-26 lead when tight end Chris Bolt caught a tipped pass from Proulx in the endzone.
Davis drilled a 33-yard field goal to give pull the Wildcats within six points before Spain's 20-yard reception from Robertson put Central Washington ahead, 36-35 with 5:26 left to play. After exchanging possessions, Humboldt State's defense rose to the occasion to stop CWU before the Jacks' final drive gave them the victory.
Robertson put up an impressive effort for CWU, passing for 315 yards by completing 27 of 39 attempts fro two touchdowns and no interceptions. Spain was on the receiving end of 11 passes, gaining 166 yards and scoring two touchdowns.
Along with Rowells' running efforts, Proulx balanced the offensive output by connecting on 21 of 33 pases for 389 yards, with one touchdown and one interception. Dirk Dallas was the Jacks' top receiver with seven catches for 98 yards after deep threat Pat Gondkoff was lost early in the game after sustaining a knee injury.
Free safety Guy Ricciardulli was Humboldt State's defensive star, totaling a team-high 11 tackles, including one for lost yardage, and also blocking a field goal. Linebacker Chris Peterson was also in on 11 tackles, including one quarterback sack.
Humboldt State goes on the road next week for another GNAC game, traveling to Burnaby, British Columbia, Canada, to take on Simon Fraser University.