Beth Larson, lecturer and Coordinator for Humboldt State's North Coast Concussion Program, is used to taking challenges head-on. But her research, which was recently discussed in the New York Times' health blog, suggests that soccer players could benefit from cutting back on heading the ball.
Image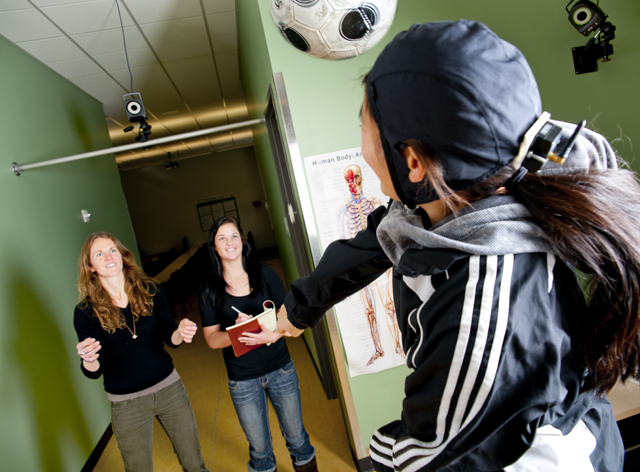 Larson ('10, M.S. Kinesiology) found that players who self-reported as headers, those who use their heads to strike the ball, scored significantly worse on cognitive tests given pre-and post-season. Those who self-reported as non-headers scored as well, if not slightly better than on their initial test. Headers also scored significantly worse in the area of visual memory.
Part of Larson's work with the program is to collect baseline cognitive data on all HSU student athletes in the pre-season. With an Immediate Post-Concussion Assessment and Cognitive Testing, or ImPACT, test, she is able to evaluate players' thinking and reasoning skills, including attention span, reaction time and memory. If an athlete suspects a concussion during the season, Larson can administer the test again and compare the results. Even if a personal baseline hasn't been established, the volume of data already collected provides a normative database that any individual can be measured against.
During her graduate work, Larson used methods, including cognitive testing, to study concussion, depression and sub-concussive blows in high school and college athletes. Sub-concussive blows are repeated hits people, in this case soccer players, take to the head without feeling immediate effects of a concussion. In many cases, players downplay immediate effects, like headaches, as "normal."
Image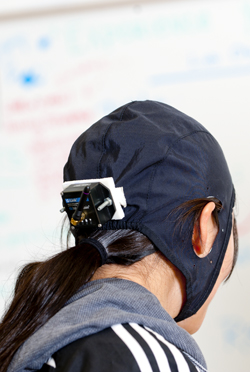 "A person who heads the ball a lot might say he made it through unscathed, but maybe he's a little more aggressive than he would have been otherwise. Maybe he's a little worse at math," Larson says. While no definitive links between sub-concussive blows and long-term cognitive impairment have yet been made, the research that she and her students continue to do at the program is helping create better connections when it comes to our understanding of the human brain.
Coaches, sports organizations and lawmakers are now taking these types of findings into consideration. Many coaches no longer require heading sessions in general practice and up to 30 states have preventative laws on the books, Larson says. "No one's saying it should be outlawed. But my thought is that heading is probably not great, especially for younger players."
Athletes aren't the only people subject to mild-traumatic head injuries such as concussions. The program offers free baseline testing to HSU students, staff and faculty, but anyone who thinks he or she has suffered a concussion can meet with staff at Humboldt State's concussion program for low-cost testing.
However the injury was sustained, Larson says, it's not a good idea to keep exerting the brain if someone suspects a concussion. A secondary blow or jolt to the head or body, even a cognitive task that requires focused concentration, could cause more harm, even death.
"In any case, self-awareness is key," she says. "If you think you've suffered a concussion or another form of mild-traumatic brain injury, ask yourself: 'Am I feeling out of the ordinary? Is something off?' Then come visit us."
For more on the North Coast Concussion Program, contact Larson at Elizabeth.Larson@humboldt.edu or 707.826.3533.
To read the full New York Times blog, visit http://well.blogs.nytimes.com/2011/12/07/a-new-worry-for-soccer-parents-heading-the-ball/.