As students return to campus this semester, they are welcomed back to the Library as an extensive seismic retrofit on the building is nearly complete. After almost two years of serious construction that closed the library, including the installation of a fire sprinkler and fire alarm system, the Library will fully reopen its doors on January 18 to students and HSU employees.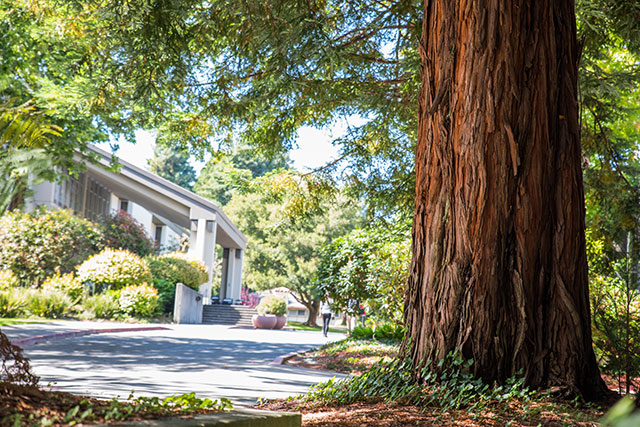 "The Library is dedicated to serving our students and promoting their academic success," says Library Dean Cyril Oberlander. "We are excited to reopen to our full capacity and once again offer students a home away from home on campus where they can study, find critical resources, and get support." Among the Library's many programs and services, students can access scholarly research, relax in the Brain Booth, or learn something new in a SkillShop. Upcoming Library events this semester include Fred Korematsu Day and the HSU Authors Celebration.
The $34 million seismic retrofit project began in 2018 and was funded by bonds issued by California State University and other sources specifically for such projects. The renovations have improved the safety and integrity of the Library based on the engineering models of a very large earthquake. The retrofit included completion of seismic elements, such as modified walls and strengthened columns and doorways, to achieve the seismic strengthening required to mitigate hazards. Additionally, new LED lights and ceiling tiles were installed in the north side of the building along with modernization of the central elevator. Upgraded ADA parking and accessibility plus many other enhancements were made to the building.
"Everyone is looking forward to returning to a much strengthened and improved Library," says Oberlander. "This milestone would not have been possible without the collaboration of numerous departments, including Information Technology Services, Telecommunications & Network Services, Facilities Management and Library partners, who have all been focused on reopening in time for the start of Spring semester."
Over the next few months, the campus community will see some remaining work ongoing, including painting in stairwells, ventilation adjustments, and other minor projects. Additionally, a small structure will be erected on the east side of the Library to house the building's fire pump and a new back-up generator. Facilities Management will complete the final scope of work in the least intrusive way possible as to not impact the daily operations.
PLEASE NOTE: To help mitigate the spread of COVID-19, access to the HSU Library will be limited to HSU students and employees at this time. Students and employees accessing campus facilities at any University location must be fully vaccinated against COVID-19, including a booster shot if eligible OR, if you are unvaccinated, have an approved exemption and are testing weekly. You will need to show your HSU ID upon entering the building. Masking is required of all individuals accessing campus facilities or events regardless of vaccination status. Read more about vaccination requirements.