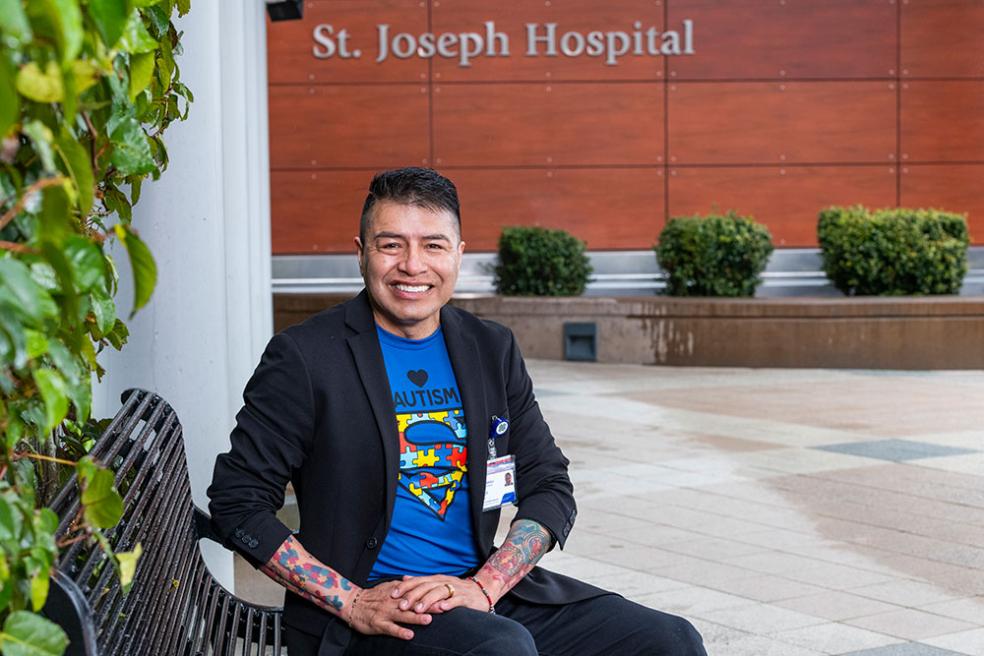 Cal Poly Humboldt is proud to award local advocate and health worker Jorge Matias an Honorary Doctorate of Humane Letters at this year's Spring Commencement ceremony on Saturday, May 13.
He is one of only 14 individuals in the University's history to receive the honor. 
For more than 20 years, Matias has worked to improve the health, safety, and wellbeing of Hispanic community members, and children diagnosed with intellectual and developmental disabilities (IDD) in Humboldt County. 
"This recognition is not only for me. It is recognition for everybody I work with," Matias emphasizes. "My colleagues and my family motivate me every single day to get up and to have hope for everybody else out there in the community."
As a community health worker, he helps operate the Paso a Paso program—which offers bilingual information on topics like childbirth, parenting, breastfeeding— and the Paso a Paso Fatherhood Picnic, an annual event geared towards increasing paternal participation. He delivers hot meals daily to homebound patients, and partners with Redwood Conecta, Latino Net, and the Redwood Coast Regional Center to create inclusive activities, including support groups for Spanish speakers. His efforts also earned him the Values in Action Award from Providence St. Joseph Hospital—the highest individual honor the hospital offers—and recognitions from the Child Abuse Prevention Coordinating Council, and the Humboldt County Human Rights Commission, in addition to a nomination for an the Autism Ally Award.
His own journey to overcome struggles inspires his advocacy. He emigrated from Mexico to the United States in 1989, later earning his high school diploma from College of the Redwoods. As a father of three, and a parent of a child with IDD, Matias struggled to find bilingual support. These experiences motivated him to create resources for Spanish speakers, and reduce the stigma associated with seeking help. 
"Matias works to create awareness and collaboration so that people with IDD and their families not only feel safe and included in our community, but also have the support and resources they need to meet their goals," says Darian Harris, Chief Executive of Providence St. Joseph Hospital.
"Everything that I do, I prioritize the families of kids with special needs because we don't have it easy," Matias says. "We have to fight every single day to prove that even though our kids are different, they are not less than anyone else."
Matias serves as a coach to the Six Rivers Running Club where he engages Hispanic community members. He participates in local runs with the club, and has completed several marathons including a 40 mile run from Arcata to Willow Creek where he earned second place. He also hosts inclusive outdoor events like art walks, zoo visits, and walk/runs.
Matias started running after a serious back injury threatened to take away his ability to walk. "I started jogging just to prove to myself that nothing was going to stop me," he explains.
Running became an opportunity to inspire others, and represent his culture. "In Mexico, soccer players and fans wear wrestling masks after a goal is scored. I started to do the same on runs; when I was on the last quarter mile, I used to get my mask out and wear it," he says, "and I thought, why can't I do the same for my kid?"
"So, I got out a white shirt and wrote 'I love someone with autism' on them with sharpies," he says. Though the shirts are no longer adorned with sharpie, he is known to don them often, and gets requests for them from people in Mexico, Germany and throughout the United States. 
"Everywhere I go, someone says, 'me too. Thank you for wearing that.'"  
"Mr. Matias is a cornerstone of our community who represents all that is good about Humboldt County," writes one of his colleagues and nominators, Caterina Kein. "He puts everyone first and asks for nothing in return. I had never met a true hero before I met Jorge Matias." 
As a mentor and leader for the local Hispanic community, he exemplifies the California State University's mission to provide opportunities for all, and a role model who upholds the vision of building a more just and equitable society.