The Humboldt State University Third Street Gallery presents "Transportraits," a traveling solo exhibition of photographic portraits of transgender men by Lorenzo Triburgo. The exhibition runs Tuesday, Jan. 31 to Sunday, March 5.
Image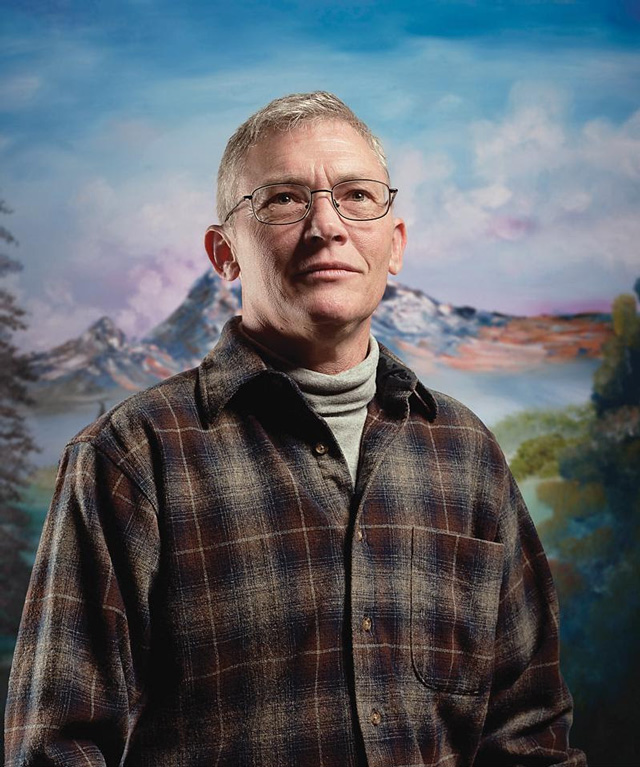 Triburgo resides in New York where he makes his art and also works as an online instructor of Gender and Sexuality Studies and Art at Oregon State University.
Having come out as transgender at age 28, Triburgo wanted to share his experiences through a project, which would address his trans genderqueer experience. His goal is to create "positive representations of trans existence in a cultural climate lacking these affirmations."
Triburgo says "I set out to allow the fabrication of the natural to emerge for itself. I followed instructions from Bob Ross' "The Joy of Painting" to create my first oil paintings, each of which would serve as a backdrop for a portrait."
The resulting project, "Transportraits," employs these constructed representations of nature and the language of photographic portraiture —along with all its rhetorical baggage—to poke a hole in the balloon of "truth." While the painted backdrops in each photograph serve to underscore the artifice that our culture unconsciously embraces in its understanding of the natural world, so too, do Triburgo's sitters subvert normative constructs of masculinity, exposing them to be equally artificial fabrications.
These portraits offer a vision where the trans experience is not hyperbolized by focusing on the evolution of the body. Instead, as Eliza Steinbock expressed in writing about Triburgo's work, they are, "about an artwork that brings the viewer closer in to imagine a different trans reality." As opposed to objectification, Triburgo presents the confidence and humanity of his sitters.
Lorenzo Triburgo's "Transportaits" is produced by Humboldt State students. Students enrolled in the Art Museum and Gallery Practices Program participate in the daily management and planning of shows at the gallery. The gallery provides real-life opportunities for the students to develop their gallery and museum skills, which in turn provides them with experience that will help them to enter the job market. Many students who have participated in the program have gone on to careers in museums and galleries throughout the nation.
Artist Talk and Reception
Lorenzo Triburgo will present an artist talk about his work at Humboldt State University on Thursday, February 2 starting at 5 p.m. The presentation will be held in Room 102 in the Art Department Building on the Humboldt State University campus. This event is free to the public and the campus community.
A reception for the artist will be held at HSU Third Street Gallery on Saturday, February 4 from 6 to 9 p.m. during Eureka's monthly Arts Alive program. The exhibition runs Tuesday, Jan. 31 to Sunday, March 5. The gallery is open Tuesdays through Sundays from noon to 5 p.m. and is closed on Mondays. Humboldt State University Third Street Gallery is located at 416 Third Street Eureka, California. The gallery was recently relocated and renamed after 19 years in its former location on First Street in Eureka. For more information, call (707) 443-6363 or visit the gallery's website here.