Image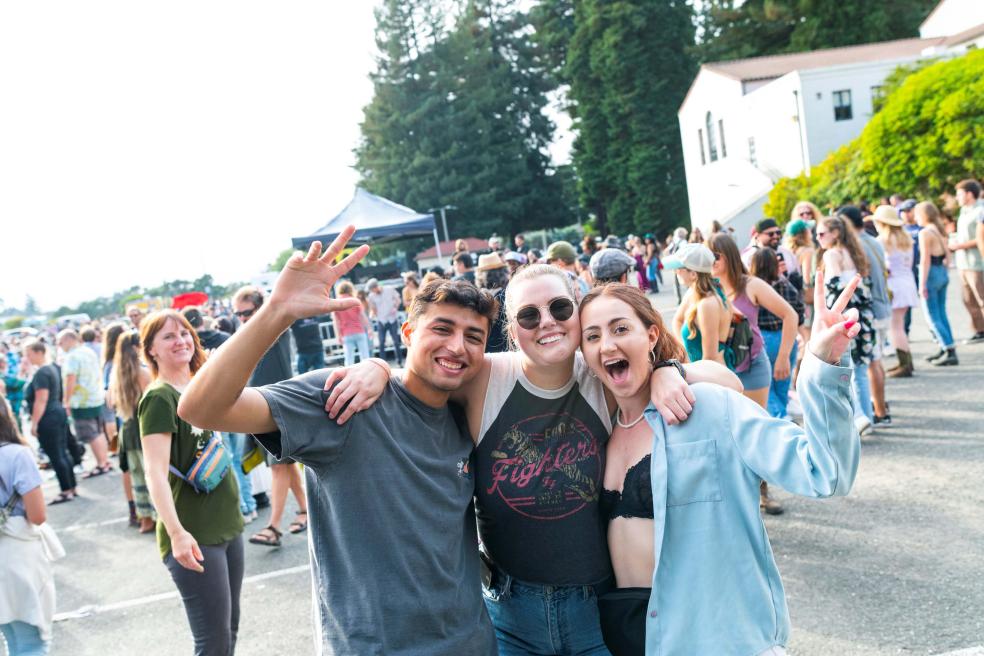 Be sure to bring the Green and Gold spirit for a weekend to remember for Humboldt's Lumberjack Weekend, formerly Homecoming & Family Weekend, which will be jam-packed with events over several days beginning Thursday, Oct. 19, through Sunday, Oct. 22.
"This is a time for students, staff, faculty, alumni, families, friends, and everyone on campus to come together to celebrate in the Humboldt spirit," says Associate Director of the Gutswurrak Student Activities Center, Michael Moore, Jr. "The big idea behind this weekend is to rally behind students and invite alumni and family members to join in the fun, mingle, and be a part of the Cal Poly Humboldt community."
Students don't need to register, but alumni, family, and friends are requested to register for Lumberjack Weekend events. 
The weekend begins with a student Kick-Off Party from 6 to 9 p.m. on the University Quad on Thursday, Oct. 19. The kickoff will feature free music, food, games, photo booths, and a Humboldt Swag giveaway. The night ends with a "Lumber-Snatch" Drag Show in the Gutswurrak Student Activities Center from 8 to 10 p.m.
The annual Distinguished Alumni Recognition Dinner will be held on Oct. 19 to recognize the achievements of alumni who are leaders in their fields or greatly contribute to their community, the nation, or Cal Poly Humboldt. Forever Humboldt will honor and recognize the Distinguished Alumni from 2021-2023 this year. 
The fun continues on Friday, Oct. 20, with a Fall Maker's Market on the University Quad from 11 a.m. to 3 p.m., featuring student and staff craft vendors selling artwork, sewing projects, jewelry, plant arrangements, handmade cards, fiber arts, and soaps, among other DIY goods. Registration check-in for those who pre-registered will happen all day on the quad as well.
Director of Student Life Ravin Craig, who helped organize events, says Lumberjack Weekend is about building a stronger community and pride in all students who make up the Lumberjack community. 
"We are expanding Lumberjack Weekend to include various interactive activities in which everyone can participate. These events are meant to highlight how students can relate to being a part of the Humboldt community," Craig says. "We want to host affordable and accessible events for all our students to build pride in school spirit to create a sense of belonging in the place and space we learn, live, and work in."
Humboldt families are invited to get to know each other at a Forever Humboldt Families Mixer on Friday, Oct. 20. University staff will also be on hand to help welcome and answer any questions about the campus from 5:30-7 p.m. at Septentrio Winery (650 6th St., Arcata). 
On Saturday, Oct. 21, explore the community and enjoy the offerings of local farmers at the Farmer's Market on the Arcata Plaza from 9 a.m. to 2 p.m. Visit The Campus Store, Arcata to browse through a selection of books and other items and the Forever Humboldt tent on the plaza to learn more about the organization and its activities. 
Then, at the corner of Harpst and Rossow Streets (G11 and FS9 parking lots), Lumberjack Weekend's Block Party begins at 2 p.m. with live music by viral pop star Remi Wolf, plus Sage The Gemini, The Altons, The California Poppies, and the Soul Party Crew. Enjoy a music festival atmosphere with face painting, live screen printing, a speed sketcher, the local Axe Box axe throwing truck, local food trucks, and more.
Finally, on Sunday, Oct. 22, everyone is invited to a Forever Humboldt Arcata Marsh Walk from 10 to 11:30 a.m. Meet at the Arcata Marsh Interpretive Center Parking Lot (G Street, Arcata) for a guided walk through the marsh. Breakfast bagels from Los Bagels will be provided. 
"Lumberjack Weekend is the time of the year when we invite alumni, families, and people who love Humboldt back to campus," says Alumni Relations Executive Director Stephanie Lane. "For students, this weekend is a fun way to create great memories. Last year's Block Party was well attended. It was full, the music was great, people were happy, and it's going to be all those things again this year."