Students in David Sleeth-Keppler's marketing classes don't have to wait until they've completed their degree to see results. As undergraduates, they're already out in the community, tackling real-world problems, finding up-to-date solutions, and helping businesses succeed.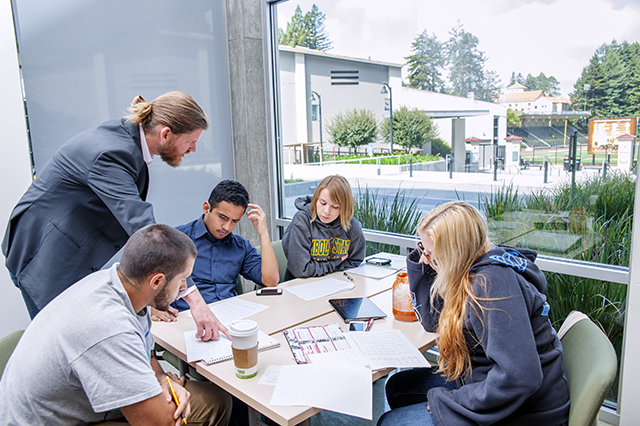 "We're still applying theory, but it's integrated into real projects with the effect of deeper learning," says Sleeth-Keppler, who incorporates actual client relationships into the curriculum of his Marketing & Communications and Marketing Research classes. "I want them to think in the context of acquiring tools rather than simply watching slides."
While experiencing hands-on learning, Sleeth-Keppler's students apply more "heady work," he says, taking concept to plan to real-world application for the benefit of local businesses. The reciprocal value for students is gaining experiential learning as undergraduates, and actually seeing their work in action.
The high-quality, thoroughly-researched projects devised by the students have been well received. In fact, all communications plans proposed to clients in the past two years were accepted and implemented in some form. Local clients included United Way of Wine Country and Humboldt Hotsauce.
"It's rewarding when the client is really excited about our involvement," said David Bethuy, a marketing student who will graduate in December. "Daniel Bixler, one of the owners of Humboldt Hot Sauce, started using the ideas we proposed in last year's research class right away. I ran into him recently, and he indicated his company is still using the suggestions and it's really seemed to help."
Key to the projects' success is the application of customized research known as Values Attitudes and Lifestyles, or VALS. Developed in 1987 by social scientist Arnold Mitchell, the system focuses on identifying consumers that are receptive to particular products and ideas, and helping clients implement marketing plans based on the data.
"It's a straightforward process of the students sitting down and writing communications plans for each of the businesses," Sleeth-Keppler said. "The results have been a real success story of students involved with community organizations, applying their defined techniques to a direct need."
One prominent example is a plan that led to the support of a local 2-1-1 call center that provides access to free, confidential information and referral for non-emergency human services via a three-digit phone number. United Way originally implemented the system, but when consolidation led to the closure of its local offices, the original messaging plan designed by Sleeth-Keppler's students convinced the Humboldt Community Access & Resource Center to continue it.
Another proposal was devised to generate interest in the Volunteer Income Tax Assistance endeavor. Working for a variety of supporting agencies, including Humboldt County, the plan targeted low and moderate wage earners who could benefit from free tax preparation assistance.
Taking on the tasks each semester are a diverse range of students with equally varied career goals. What all have in common, however, is the guidance of Sleeth-Keppler, who effectively employs his background in psychology into clear, direct instruction. His own communication skills mimic what students must learn in order to refine broad information generated through a multi-layered analysis into a plan clients can understand and embrace.
After earning a doctorate in Social Psychology from the University of Maryland, Sleeth-Keppler was the recipient of a postdoctoral fellowship in Marketing from the Stanford University School of Business. He also worked as a consultant in the private sector, gaining his own hands-on experience that is now being passed along to HSU students.
"The way David teaches his courses is very active and engaging," Bethuy says. "Everyone works together and becomes very team-oriented. It's what I envision an ideal workplace would feel like."
Most recently, Sleeth-Keppler and his students turned their efforts in-house, using research to profile the type of students HSU commonly attracts and what the university's future population might look like. The results can help Humboldt State identify students most likely to enroll and persist at HSU, eventually earning a degree.
If those students end up in his mentor's classroom, Bethuy believes they'll have the same satisfying experience he's enjoyed.
"(Sleeth-Keppler's) a rock-star," Bethuy says. "He provides students with every tool they need to be successful. I definitely plan to stay in contact with him after I finish my undergraduate studies."