Humboldt State University's completely revamped MBA program hinges on how top 21st century business is reshaping strategic sustainability and the new careers that will flow from it.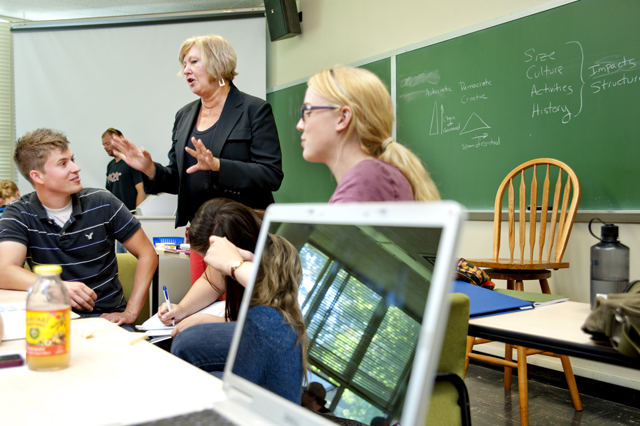 HSU's growing School of Business, buttressed by a $2.5 million investment by donors and the university, has overhauled the one-year MBA to close the gap between what traditional business schools teach and what companies are looking for in their future employees.
Entrepreneurship and creativity are at the heart of the redesigned program, which will carry a $1,000 – $3,000 scholarship. Every MBA candidate will also receive an internship/field experience valued at about $2,000.
Fully interdisciplinary, the restructured MBA meshes with an array of Humboldt State undergraduate programs, including the natural, environmental and social sciences. This integrated approach accentuates the degree's versatility. Job applicants with undergraduate degrees in these disciplines will be able to expand their career prospects by adding the MBA's functional business skills to their areas of expertise.
Integration, say, of a natural sciences undergraduate degree with an MBA enables master's candidates to build multiple skill sets that are difficult to outsource and of permanent career value.
The new MBA is designed with built-in flexibility. It can be completed in one year. Courses will be offered in the evening to maximize flexibility with student work schedules. No prior work experience will be required.
Other elements include:
A paid summer internship
An extensive project, supported by a faculty advisor
An electronic portfolio to aid students in their job searches
Students will analyze the strategic sustainability issues of leading multinational companies, non-profits and other organizations and how they are innovating and creating new markets. Financial, marketing, accounting and strategic management issues will be addressed, taking into account the companies' best practices in the real world.
MBA internships and service learning will be geared to sustainability experiences, giving students practical skills that build on knowhow gained in the classroom.
Students will develop their own electronic portfolios as they advance through their courses, which will be based on critical thinking, effective communication, ethical reasoning and team building. All project papers will be included in the portfolios, leading to a capstone research project and the internship/field experience.
The redesigned degree builds on the scholarly reputation of HSU's School of Business; its students average in the top 25 percent of those graduating from U.S. business schools that have participated in national assessment tests (data from 2003 to 2010).
The School and the College of Professional Studies will present further information about the restructured MBA at their New Faculty Reception Thursday, Oct. 11, 5 – 7 p.m. at the Plaza Grill View Room, 780 7th St., Arcata. Hors d'oeuvres and drinks will be served; RSVP is requested by Sept. 28 to School of Business administrator Randi Swedenburg at rcs24@humboldt.edu.
Details about the HSU School of Business are posted at www.humboldt.edu/biz. They are also available from MBA Coordinator Carol Telesky at cwt5@humboldt.edu and Randy Swedenburg at rcs24@humboldt.edu.