Meditation has a new home in the HSU's Library, which now welcomes students, staff, and faculty to use a small room available for quiet contemplation, meditation, reflection, or prayer.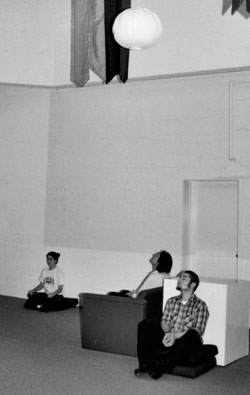 Located in Library 40, the meditation room is available at all times the library's lower floor is open. Keys to open Library 40 are available for checkout at the Circulation Desk. Use is limited to 30 minutes, and up to six individuals may use the space at the same time. The first person to check out the room has full use of the room during the entire time the room is checked out, but users are asked to be mindful of the needs of others. For more information on the library's new meditation space, contact Library Dean, Cryil Oberlander at Cyril.Oberlander@Humboldt.edu.
HSU's Counseling & Psychological Services also offers its One Breath Meditation Group every Tuesday from 5 to 6 p.m.. Open to the entire HSU community, the group meets in the Rec & Wellness Center, room 124. No sign up is required. For more information on group workshops visit http://humboldt.edu/counseling/groups_workshops.html.