Image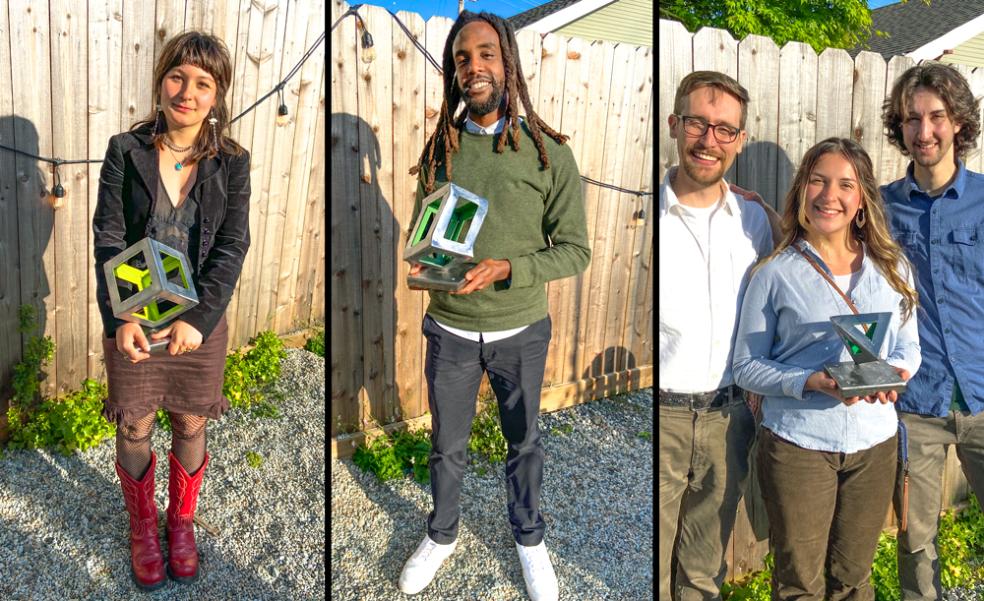 The seventh annual Sustainability Champion Awards program honors Cal Poly Humboldt employees who have deepened a culture of sustainability on campus, advanced  the integration of sustainability into academics or student life, or have reduced the University's environmental footprint. 
Each year a selection committee reviews nominations and selects one faculty member, one staff member, and one student employee who embody a spirit of innovation, collaboration, and leadership to create solutions to pressing challenges facing the campus and society.
This year the award winners were presented with sculptures made by Art major Shawn Murphy.
Environmental Studies major Maddy Hunt has dedicated herself to expanding the adoption of natural building techniques. She teaches the ENST 123 Natural Building course, where she has been leading students in developing the Reclamation Station. A section of the  grounds of the Campus Center for Appropriate Technology, the Station collects and provides the community reusable building materials. It features a retaining wall made of rammed earth and tires, and a shed with a demonstration hempcrete wall. Hunt is also competing in the Sunstone CSU Startup Launch Competition, working with an Indigenous housing initiative and natural homebuilders to bring hempcrete building technology to Humboldt County as a way to address housing and fire safety challenges with a carbon-negative building material.
Douglas Smith, the coordinator for the Umoja Center for Pan African Student Excellence - Arcata, has a long history  of fostering academic and personal success in students  by developing community, cultural, and natural connections. Following his own experiences working on farms and with farmers and becoming a Master Gardener, he now advocates for community-supported agriculture and interactions with the natural environment as a means for building resilience and community. Smith launched Black to the Land, a program designed to provide students a deeper cultural connection with the natural environment. This program includes a monthly trip where students explore the great outdoors of Humboldt County, such as paddling in Humboldt Bay and working at Bayside Park Farm, where they build raised beds, plant crops, and tend chickens to inspire the next generation of Black farmers.
Forestry Professor Kevin Boston leads the "school forest carbon initiative," an assessment of the atmospheric carbon sequestration of the University's forested lands. Conducted in collaboration with students, faculty, and the Office of Sustainability, he started the program in Jacoby Creek Forest, where he secured funding to train and employ Forestry students to install long-term carbon monitoring plots. Carbon data is being integrated into a Forestry class where students are evaluating different forest stewardship approaches and their carbon consequences. He has secured additional funding from the California State University Campus as Living Lab to continue work at the forest, to quantify carbon at the University's L.W. Schatz Demonstration Tree Farm starting this summer, and also to help College of the Redwoods assess and verify their forest carbon. He is now expanding the program by developing internships for Tribal youth.

The Office of Sustainability sponsors the annual Sustainability Champion Awards. For more information on sustainability at Cal Poly Humboldt, visit the Office of Sustainability website.