Humboldt State University's First Street Gallery presents _Midnight Sun: Works by Julie McNiel_. Produced and curated by the students in HSU's Museum and Gallery Practices Program, the exhibit runs Nov. 27 to Dec. 3.
In the exhibition Midnight Sun Julie McNiel riffs on the theme of seasonal change from autumn to winter. She states that, "The drawings in Midnight Sun are winter tales that situate the viewer in the space between. I do not try to draw or tell a literal description of winter, but prefer to evoke and reflect upon its characteristic elements and particular beauty."
Image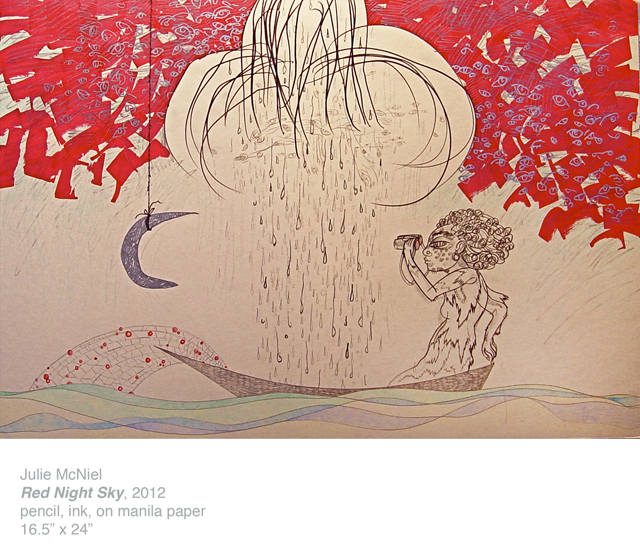 McNiel's multi-layered drawings take the viewer into an imagined netherworld where the winter's landscape is populated by fantastic, mythic figures. She writes that, "These are the characters and situations to be found in a winter's tale, by fireside. As in a musical nocturne, darkness recalls the vigil that takes place during the transition from the night hours towards dawn. In my drawn form, the vigil is suggested by a lack of clear distinction between dark and light, night or day – this is an imaginary, intermediary world where anything is still possible, or may have already happened."
A native of San Francisco, McNiel currently resides with her family on California's North Coast. She has traveled across the United States, Asia and Europe, and performed with interdisciplinary arts troupes such as The Three-Legged Puppet Troupe, Vent, and Aqua. She received a two-year California Graduate Fellowship at the San Francisco Art Institute, and graduated with an M.F.A. in painting in 1999.
There will be a gallery reception for the artist, which will take place at the HSU First Street Gallery Dec. 1 from 6 to 9 p.m. during Eureka's Arts Alive program. The gallery is open Tuesday through Sunday from 12 to 5 p.m. and is located at 422 First Street, Eureka, California. Admission is free. Group tours are encouraged to call ahead. For more information call (707) 443-6363 or visit humboldt.edu/first.