Athletes at Humboldt State University to continue participation
The world's most comprehensive concussion study is being dramatically expanded with an infusion of nearly $22.5 million in new funding from the U.S. Department of Defense and the NCAA to examine the impacts of head injuries over several years.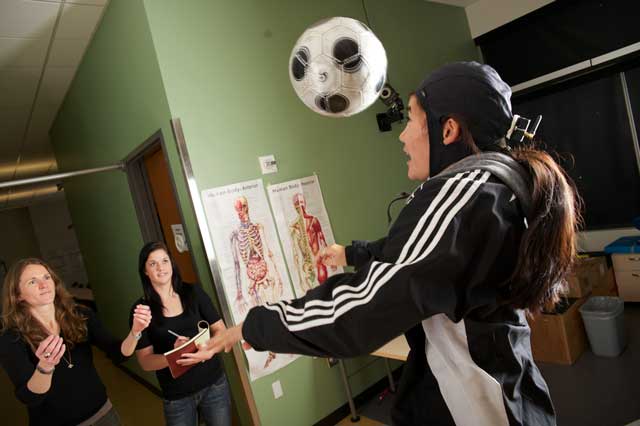 The NCAA-DOD Concussion Assessment, Research and Education Consortium, known as the CARE Consortium, was established as part of the broader NCAA-DOD Grand Alliance in 2014, with the goals of understanding how concussions affect the brain and identifying ways to improve diagnosis, treatment and prevention.
Led by Indiana University School of Medicine, the University of Michigan and the Medical College of Wisconsin, in collaboration with the Uniformed Services University, the study has collected data on more than 39,000 student-athletes and cadets at 30 colleges and military service academies — including more than 3,300 who have experienced concussions. This represents the largest sample of concussions ever researched in a single study.
The initial phase of the study — made possible by a joint NCAA-Department of Defense grant of $30 million — focused on the acute effects of concussions by evaluating concussed participants with a sequence of clinical and advanced research tests in the immediate hours, days and weeks after the injury, and comparing the results with baseline tests administered at the start of the study.
The new phase will include comprehensive testing of the participants when they leave college and up to four years after their collegiate sports or service academy career has ended. This expanded approach will enable researchers to study the intermediate and cumulative effects of concussion and repetitive head impact exposure. Importantly, researchers hope to differentiate between the effects of concussion, repetitive head impact, and sports participation with no history of either concussion or repetitive head impact exposure.
"We have gathered important information about the short-term effects of concussions over the past few years, but there is still a lot we do not understand about how our brains respond to different types of impact over time," said Dr. Thomas W. McAllister, chair of the Department of Psychiatry at Indiana University School of Medicine and the leader of the study's administrative and operations center. "By comparing these groups across multiple years, we think we can parse out the effects of concussions, versus repetitive head impacts, versus normal life at university. This is critical for us to make informed decisions that protect our athletes, members of the military and other members of our communities."
The evaluations will include clinical tests to assess attributes such as balance and memory but also will probe changes to participants' psychological health to determine what role, if any, concussions and repetitive head impacts may have on depression, anxiety and emotional control. Researchers also will continue to conduct advanced research tests, including genetic analysis, brain imaging and blood tests to measure biomarkers associated with inflammation and nervous system dysfunction. It is conceivable that the advanced research tests will help identify genes and other objective markers that render an athlete or cadet more or less susceptible to concussion or injury from repetitive head impacts.
The NCAA is providing $12.5 million in funding over two years for the second stage of research. The Department of Defense approved a two-year grant of nearly $10 million.
Humboldt State University's North Coast Concussion Program (NCCP) is among the institutions with athletes who are participating in the study.
"Some of the biggest challenges related to concussion injuries is knowing the best ways to prevent and diagnose them, and how best to manage recovery," says Justus Ortega, a Kinesiology professor and director of NCCP. "One the most important aspects of this phase of research is that the data will help us find the best approaches to concussion assessment, management, and prevention."
Starting in 2014, HSU researchers conducted baseline and post-injury monitoring – up to six months after injury – of neurocognitive, motor control, and behavioral data in about 400 HSU athletes from all sports. In this next phase of research, the NCCP received a $248,000 grant to test 225 HSU athletes and to support 14 students who will assist Ortega administer baseline and post-injury tests, analyze data, and develop peer-reviewed research papers.
"This new phase of funding represents a critical extension to the original study goals, allowing us to take an unprecedented look at cumulative and persistent effects of concussion and repetitive head impact exposure," said Dr. Brian Hainline, NCAA chief medical officer. "What we learn from this research will advance the science of traumatic brain injury and improve our understanding of how to best support the health and well-being of student-athletes, not only during their collegiate athletics experience but beyond."
In addition to expanding the scope of the study, the CARE Consortium is adding a representative from the Uniformed Services University of the Health Sciences to its research team. Dr. Paul F. Pasquina is a retired Army colonel, professor and chair of the Department of Rehabilitation Medicine and director of the Center for Rehabilitation Sciences Research. His role with the CARE Consortium is to promote and facilitate the involvement of the four military service academies in the consortium.
"Optimizing the health and performance of our warfighters is paramount to enhancing the readiness and lethality of the force," Terry M. Rauch, acting deputy assistant secretary of defense (Health Readiness Policy and Oversight), said regarding the Department of Defense's participation in the study. "Traumatic brain injuries are a major readiness concern as our warfighters are particularly susceptible to these injuries during combat and training. The department is leading efforts in research to better understand how to prevent, diagnose and treat TBIs across the range of military operations. However, much more work needs to be done, and this partnership with the NCAA and participating academic institutions provides valuable evidence to optimize the health and performance of our warfighters."
Other study leaders include:
• Steven Broglio, professor of kinesiology and director of the Michigan Concussion Center at the University of Michigan. Broglio leads the longitudinal clinical study core, which oversees all clinical aspects of the study.
• Michael McCrea, professor of neurosurgery and co-director of the Center for Neurotrauma Research at the Medical College of Wisconsin. McCrea leads the advanced research core, which includes head impact sensor technologies, advanced neuroimaging and biological markers that include detailed genetic testing.
• Indiana University School of Medicine, under the direction of McAllister, which provides regulatory and fiduciary oversight, as well as biostatistics and data management, neuroimaging, bioinformatics, biomarkers/biospecimen management, and other support resources for the consortium. Indiana University School of Medicine partners with the Datalys Center and QuesGen Systems in this effort.
Already, the CARE Consortium has generated information related to important topics such as the impact of removing student-athletes from play after a concussion; the influence of age at the time of first concussion; sleep and concussion recovery; and tools and tests used to assess concussions. A list of the scientific publications resulting from the CARE Consortium study may be found on the NCAA Sport Science Institute website.