A newly completed upgrade to Humboldt State's hydrogen fueling station has connected HSU to California's Hydrogen Highway, an emerging statewide network of such stations.
With the new 700-bar compressor, engineers at the Schatz Energy Research Center (SERC) can now fully charge the university's two Toyota FCHV-advs. Each vehicle stores 6 kilograms of compressed hydrogen and has a driving range of about 400 miles.
"The new compressor doubles the pressure capacity of our existing system. This means that a vehicle fueled at HSU can now travel 400 miles non-stop, which is a significant improvement because it links us to the closest hydrogen fueling stations in the Bay Area and Sacramento," SERC Engineer Greg Chapman says.
Image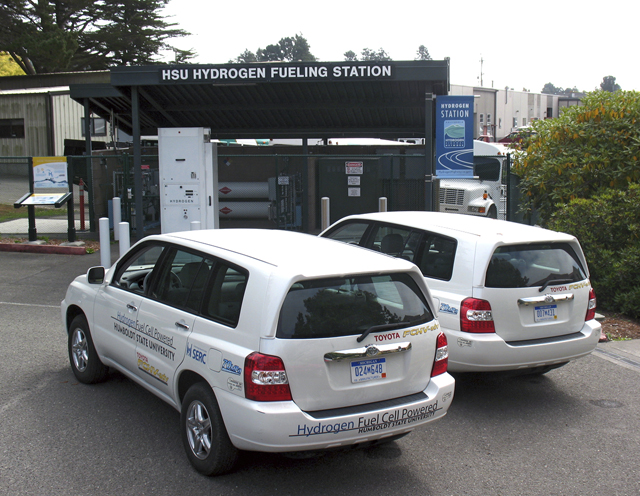 HSU's hydrogen fueling station, located off Rossow Street behind Harry Griffith Hall, is the northernmost link in the Hydrogen Highway and the first station in a rural location. The state-funded station upgrade is one of several initiatives aimed at creating the fueling infrastructure necessary to support the broad-scale adoption of hydrogen fuel cell electric vehicles (FCEVs).
Car manufacturers Honda, Toyota, and Hyundai have all announced plans to introduce commercial FCEVs by or before 2015, Chapman says. According to the California Fuel Cell Partnership, a statewide organization that promotes the commercialization of hydrogen fuel cell vehicles, there are 23 hydrogen-fueling stations in California, with 14 additional stations in planning or construction phases. Most are located in southern California and were built with a combination of private and government funding.
SERC's station—unveiled in 2008—was funded by Chevron Technology Ventures, the California Department of Transportation (Caltrans), and other partners. The station was designed to dispense fuel at 350 bar, the industry standard at the time.
Caltrans recently extended its original contract with SERC and awarded the lab an additional $241,000 to upgrade the station to current industry-standard 700 bar fueling capability.
Image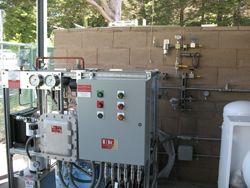 "In the past few years, hoses, tanks, nozzles and plumbing technology have advanced at such a pace that 700-bar is the new norm. These innovations have solved one of the technological barriers for the implementation of fuel cell vehicles—the limited driving range," Chapman says.
Aside from providing more highly compressed gas, the station will continue to operate as originally designed. Electric power will break water into oxygen and hydrogen gas, with the hydrogen being compressed and stored for dispensing. Vehicles used for daily commuting will continue to use the 350-bar dispenser, while the 700-bar device will service longer trips.
Humboldt State's two FCEVs are on loan from the Transportation Sustainability Research Center at the University of California, Berkeley.
"Our mission at the Schatz Lab is to promote clean, renewable energy, and promoting fuel cells and hydrogen for transportation is an important part of that," Chapman says.
Located next to the Behavioral and Social Sciences Building on campus, HSU's Schatz Energy Research Center works to establish clean energy technologies, specializing in renewable energy, energy efficiency, and hydrogen energy systems. The center's newly-appointed director, Arne Jacobson, is a faculty member in the Environmental Resources Engineering Department. Jacobson replaced founding director Peter Lehman this fall. Lehman had held the position since 1989.
For more information visit schatzlab.org or cafcp.org.