As students, faculty and staff arrive at Humboldt State for a new semester, they may notice a few things—actually, thousands of things—are missing from campus: bottled water.
Image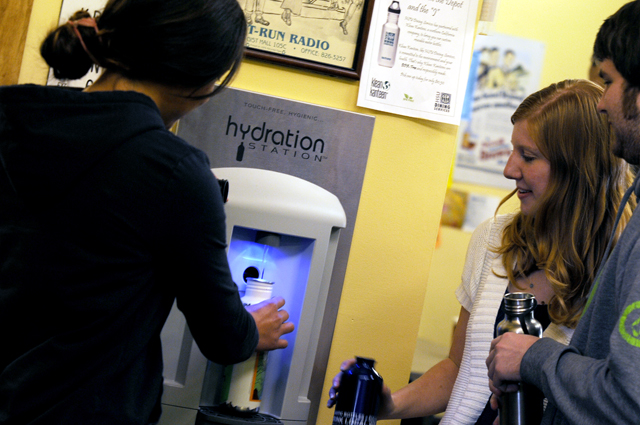 Humboldt State has taken the first steps in phasing out the sale of plastic water bottles on campus, making it the first public university in California and just the third public university in the nation to do so.
For fall semester, HSU Dining Services stopped selling single-use plastic water bottles at all campus marketplaces and eateries, like the "J" Cafeteria and Depot. Throughout the semester, the campus will phase out plastic water bottles in campus vending machines as well.
While the issue of banning or limiting sales of bottled water has come up at many universities, according to the Chronicle of Higher Education, few have actually phased out the product completely.
AASHE – the Association for the Advancement of Sustainability in Higher Education – says that just 13 universities in the U.S. and Canada have discontinued the sale of bottled water. Humboldt State will soon join the list, along with the private women's college, College of St. Benedict in Minnesota., which also eliminated plastic water bottle sales on campus this fall.
"We've seen several campuses institute either partial or complete bottled water bans for various reasons," says Paul Rowland, Executive Director of AASHE. "Some campuses have touted the decrease in waste while others have done it as a water quality issue. The waste reduction is significant."
TC Comet, director of HSU's Office of Sustainability, says the move makes sense for a campus with a long commitment to the environment. "We are proud to be one of the first campuses to do a phase-out of this magnitude," he says.
Prior to this year, about 50,000 plastic water bottles were sold on campus each year. The peak in a single year was nearly 80,000.
The student-lead campus group, Take Back the Tap, calculates that the production, transportation, storage and disposal of those 80,000 plastic water bottles requires about 43 barrels of oil and releases over 35,000 pounds of carbon dioxide into the atmosphere.
Image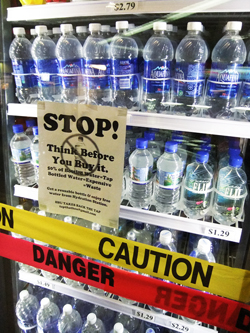 Nationally, consumers purchased nearly 8.5 billion gallons of bottled water in 2009—nearly 28 gallons per person—generating $10.6 billion in revenues, according to the International Bottled Water Association. The association says just 31 percent of bottled water containers were recycled that same year—and that was an increase from previous years.
Ron Rudebock, director of HSU Dining Services, sees the phase-out as a big step. He also sees it as a return to an earlier time. "Ten or 15 years ago, bottled water wasn't sold on campus," he says. "We got by with out it then, we can do it now."
Students, faculty and staff will still have plenty of places to quench their thirst.
There are drinking fountains in every building on campus, as well as two "Hydration Stations" in the Depot and Kinesiology building. The stations provide chilled, filtered water from hands-free dispensers and are designed for refillable beverage containers. The campus plans to retrofit more water fountains to accommodate reusable water containers.
"Every year, we send on-campus residents a coupon for a free, reusable mug," Rudebock says. "This year, our plan is to give students a choice between a mug or a reusable canteen."
HSU already gives students living on campus a free beverage container, and the campus Bookstore carries a variety of reusable containers.
Rudebock sees this change as a chance to promote healthy choices as well.
"When people come in looking for bottled water, they're not looking for a cola," he says. "They're looking for something refreshing and cold, but not a sugary, soda-type drink. We want to provide them with more healthy options."
Campus officials have been considering the phase-out for some time. Previous efforts, like the student-led Green-up Graduation effort that eliminated plastic water bottles at commencement, helped the idea gain traction.
During the first year of the phase-out, there will be increased education and outreach by groups like Take Back the Tap and the Waste Reduction and Resource Awareness Program. Students in these groups will talk to their peers about the high quality of Humboldt County drinking water and the harmful social and environmental impacts of plastic water bottles.
"This will be one of the key instrumental pieces to help people understand why they aren't seeing bottled water on campus," Comet says. "HSU is making an informed, environmental commitment. And the students that I've talked to so far think it's an extraordinary commitment."