This summer, Humboldt State University will offer an exciting hands-on STEM learning experience focused on teaching 10th-12th-grade Native American students about Unmanned Aircraft Systems (UAS) technology—or small drones—and its application to scientific research.
Image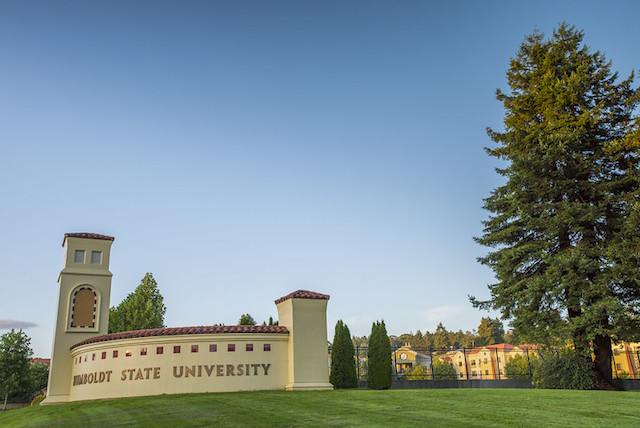 The goal of the program is to prepare students to obtain a Federal Aviation Administration UAS pilot's license by the conclusion of a four-week summer session. The program also aims to inspire and motivate 25 students to pursue higher education, as well as careers in STEM-related fields.
The program is made possible by a $39,000 "Unite" program grant from the Army Educational Outreach Program (AEOP), in partnership with the Technology Student Association (TSA).
"We are very excited to become an AEOP Unite site and help provide young people in the community with the opportunity to deepen their knowledge in STEM studies and chart a path to obtain mentorship and career opportunities in STEM fields," says David Marshall, site director of the program and a research associate at HSU.
"Far too often, Native Americans, other students of color, and low-income students do not have access to these learning opportunities, or these opportunities are never made available to them," says Marshall.
Under the program, Native American students who already have their drone license will help high school students learn about UAS technology and prepare them to take the drone licensing test.
Marshall is the first certified drone pilot at HSU and a STEM education advocate. He is also the former chair of the Humboldt County Unmanned Aircraft Systems advisory committee at HSU and has taught a summer robotics experience for sixth-eighth-grade students.
Learning how to fly a drone is a skill that has practical applications, especially in science education as they become a more popular tool for research. At HSU, drones have been used by professors to gather data for a variety of projects. For example, Wildlife Professor Daniel Barton wrote a study about how birds interact with drones and Anthropology Professor Marisol Cortes-Rincon has used drones in her search on ancient civilizations.
After learning about Unite last year, Marshall applied and was awarded a Unite grant to establish the program at HSU. Tamara Barriquand, professor of Physics and Oceanography at HSU, a former Air Force pilot, and the current chair of the Unmanned Aircraft Systems Committee at HSU, , is the co-director of the program. Barriquand got her start in aviation at the Civil Air Patrol National Flight Encampment summer program at Beale Air Force Base, CA, where she first flew an airplane solo at age17.
Unite is a four-to-six-week summer program with the goal of creating more equitable access to STEM experiences for all high school students. Unite encourages students to consider college majors and careers in engineering and other STEM-related fields through a program of focused hands-on rigorous academics, enrichment, and career exploration. AEOP and Unite envision a future full of STEM leaders that are representative of the diverse country we live in.
"As the nation prepares for a post-pandemic economy, it is vital to harness the full potential of young people in STEM to tackle the various challenges we face," says Hillary Lee, manager of Unite at TSA. "AEOP and TSA are excited to see this new site join the Unite network. The work being done at HSU exemplifies our desire to expose a diverse community of young people to the power of what is possible through STEM—by making it fun, accessible, and relevant."
Due to COVID-19 precautions, students in the program will receive online instruction that includes team-building events, guest speakers, and the information needed to obtain a UAS pilot's license. Guest speakers include local Coast Guard air station pilots, a software engineer from Lockheed, an aviation GPS equipment manufacturer engineer, and a number of other professionals who work in the aviation industry.
To learn more about the AEOP Unite program at HSU and to apply, contact David Marshall at david.marshall@humboldt.edu. Discover more about AEOP Unite and how to bring the Unite program to your community here. Student eligibility for Unite varies by site location.
About AEOP: The Army Educational Outreach Program (AEOP) is comprised of Army-sponsored research, education, competition, internship, and practical experience opportunities designed to engage and guide students and teachers in STEM. From elementary school through graduate school, students at all levels, interests, and ethnic, economic, and academic backgrounds are encouraged to participate in hands-on programs in STEM disciplines. More information is available at www.usaeop.com.
About TSA: The Technology Student Association (TSA) is a national, nonprofit career and technical student organization (CTSO) of middle school and high school student members who are engaged in STEM. Since TSA was chartered in 1978, over 5,000,000 students have participated in TSA through competitions, intracurricular activities, leadership opportunities, community service, and more. Additional information about TSA is available at www.tsaweb.org.