Ninety nine doors will open at Humboldt State University in the fall when 434 students move into the new College Creek Apartments.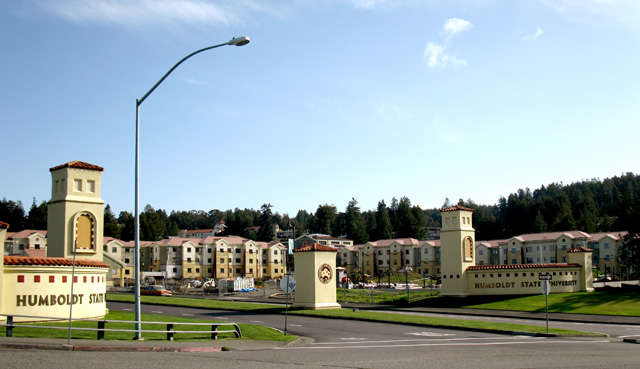 Construction on the apartments, located on the corner of LK Wood Boulevard and 14th Street, began last November. The housing will be ready by the time students arrive for the fall semester.
The latest housing on campus—available to returning and transfer students—has many perks. One benefit is added privacy. Although the design allows for both four- and six-person suites, most students living there will enjoy single bedrooms. Each apartment will have four bedrooms. Six-person suites will have two single and two double bedrooms.
In addition all units will have two bathrooms, a common living area and a kitchen.
Although full kitchens are not unique to all campus housing, the new microwaves and dishwashers that come standard in College Creek are. Incorporating the Energy Star-rated appliances was a decision made with students in mind.
As part of its environmental design, the project has been built to base LEED certification standards. It also includes two laundry facilities in the north and south side buildings, a marketplace and community center, and an NCAA-regulation synthetic turf soccer field and locker rooms.
Although the apartments will be ready for the fall, the project won't officially be wrapped up. Construction on the marketplace and community center will continue into the new semester. When it is complete, however, it will offer food and groceries as well as a place to gather.
To learn more about the College Creek Apartments visit http://www.humboldt.edu/housing/collegecreek/.