"How do I call the Health Center? "What's on the menu at the J?" These are just some of the frequently asked questions HSU's new text-based chatbot, called HumBot, can help answer.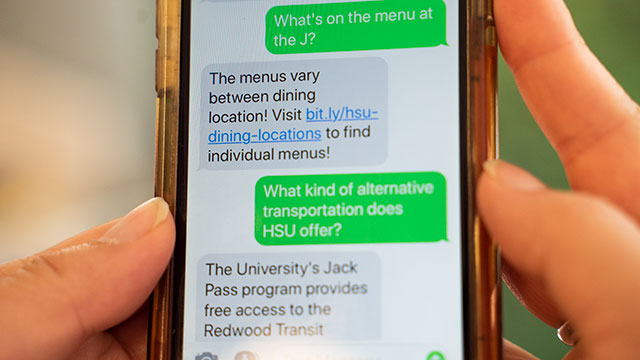 HumBot introduced itself via text message to first-time freshmen and new transfer students the first week of classes. The free service, available to answer questions at any time, is another resource to help students navigate HSU life and feel more connected to the University and, in turn, increase retention.
A chatbot, such as Amazon's Alexa, is artificial intelligence software designed to have conversations with humans. The more it's used, the smarter it becomes as it links seemingly disparate pieces of information, says project manager Josh Smith.
Funded by an $80,000 grant from the Irvine Foundation, the chatbot project is spearheaded by Provost Alex Enyedi, who first suggested using a chatbot, and Social Work Professor Jen Maguire.
"It's another way for new students to receive important reminders and they can ask the bot questions 24/7," says Smith.
As the "voice" of HumBot, Smith, with the assistance of various campus departments, creates conversational answers to common questions, such as how to get financial aid. HumBot can also direct students to the appropriate department or website. It's also a useful tool to remind students about crucial deadlines.
For more complex questions, the HumBot responds: "I'll get a human." This message generates an email that's sent to a Humboldt staff member who can email the answer directly to the student. HumBot is expected to help HSU faculty and staff focus on more complex questions and keep students engaged with campus.
Maintaining connections is especially crucial when it comes to sensitive topics. Students may feel more at ease asking the chatbot for information. That's why HumBot has been configured to connect students with campus food and housing resources and services. Maguire is conducting research on using a chatbot to destigmatize food and housing insecurity.
HumBot is also tailored to be very "Humboldt." Responses are gender-neutral, for example, and make references to the strengths of HSU and the local community.
"If a student asks if we have a Starbucks on campus," says Smith "HumBot will respond, 'Here at HSU we are proud to serve locally roasted coffee at the Library Cafe, the Depot, and the Marketplace!.'"