Image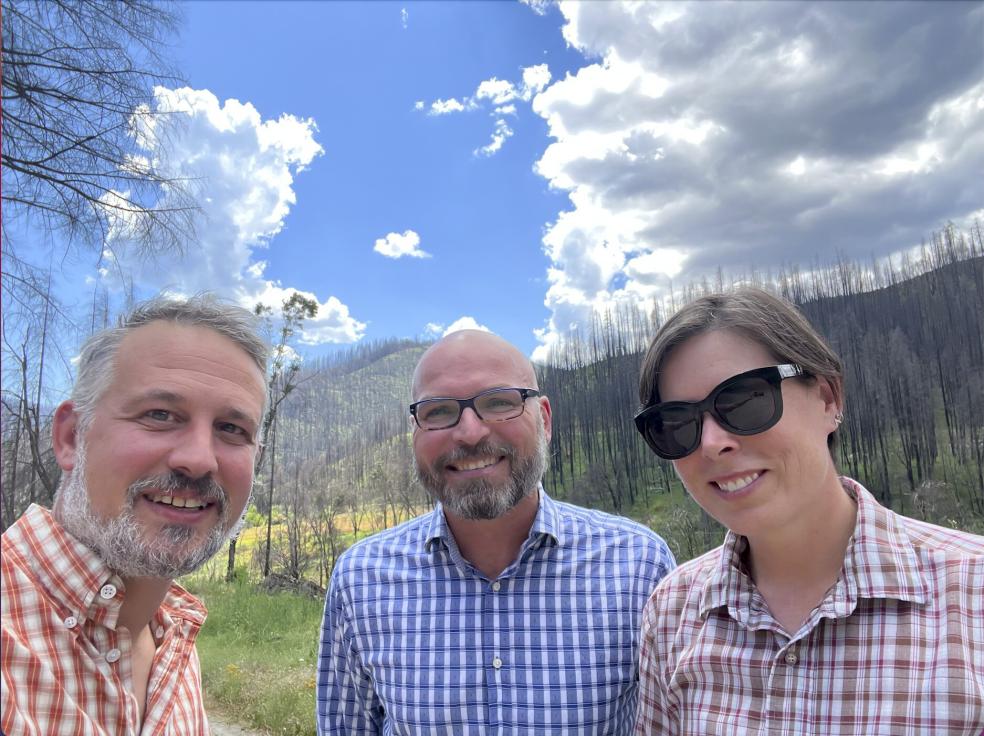 When wildfire strikes a community, it can leave a path of destruction, and a chance for renewal. During the fire and in the immediate aftermath, residents and officials focus on protection and stabilization efforts. However, the availability of resources to support community recovery and promote resilience to future fires over the longer-term is less certain. Three Cal Poly Humboldt professors are studying how communities recover from wildfires over time.
The dramatic increase in large and destructive wildfires in the western U.S., and understanding how different communities recover from wildfire, is what motivated the team—Professor of Forest Policy and Administration Erin Kelly, Professor of Psychology Benjamin Graham, and Professor of Fire Ecology and Fuels Management Jeff Kane—to conduct the research. 
"The effects of high-severity, large-scale wildfires are not just ecological; we are seeing more and more communities impacted, often in really disruptive ways," Kelly explains. "There is a need to think about how communities can not only recover from wildfires, but prepare for future wildfires."
The study aims to define recovery, who benefits from—and who is left out of—those efforts, who is involved in that process, and what resources are available and which are lacking, explains Catriona Barr, a Natural Resources graduate student who is helping conduct the study. The study also investigates how these regions adapt, and better prepare for future disasters. 
The study examines three communities in California and Oregon that were impacted by large-scale wildfires in 2020. Those include: Talent/Phoenix, Oregon; Happy Camp, California; and Ruth/Zenia, California. The team is working alongside community-based organizations involved in recovery, including the Mid-Klamath Watershed Council, Slater Fire Long-Term Recovery Group, Firebrand Collective, and the Watershed Research and Training Center. 
Researchers are considering their recovery process three to four years after the fire events. The time frame, says Barr, gives time for the dust to settle. 
"There can be a lot of activity and coming together in the immediate wake of a disaster," adds Barr. "But taking stock a few years out lets us look at how the goals of recovery, the people involved, the resources available, and community attitudes toward recovery have changed over time."
Among the reasons that Barr, whose background is in community-based research, was most excited about this project is for the opportunity to apply her skill sets and ensure community voices are reflected.
"This research provides wildfire survivors a venue to share their stories and aims to fill some of the knowledge gaps identified by our community partners," she says.
"We would like to impact other communities that are struggling with disasters, but primarily we hope to contribute to these communities' recovery," explains professor Kelly. "We are working with partners in the communities themselves because they are already doing so much good work. We want to supplement what they are already doing."
The team received a grant for more than $313,000 from the Joint Fire Science Program, which supports scientific research on fires. They aim to complete the study in early 2026. 
Results will be useful for state and local officials who are facilitating recovery; as well as landowners, public land managers, and nonprofit organizations.
Researchers will also share their findings with fire-prone communities. They hope to provide insight about how to navigate recovery, prepare for future events, and create models for better supporting community recovery.