North Coast Otters Public Arts Initiative, which featured 108 life-sized sculptures of otters painted by local artists, raised more than $300,000 in grants, sponsorships, and generous donations. Final proceeds will support otter research and student internships at Humboldt State University.
Image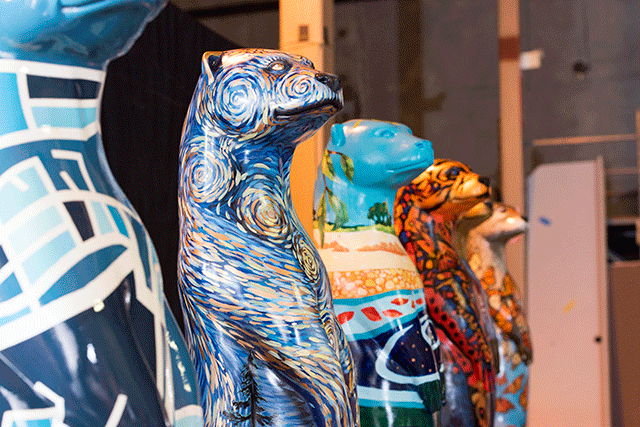 The initiative included a community "treasure hunt" to find sculptures that were displayed in Humboldt, Del Norte, Mendocino, Trinity, and Siskiyou counties this summer. The goal was to celebrate life, water, and otters; support local businesses; and raise funds for HSU student projects.
VIDEO: 100+ Otter Sculptures for Public Arts Initiative Raises Awareness about Otters
"Hundreds of people, including grandkids with grandparents, families, couples and, well, everyone, seemed to fall in love with these otters," says project lead, Jeff Black, a Wildlife professor at HSU. "The merger of art and science was an absolute joy throughout the North Coast."
The last hurrah this September included an in-person showing of the Otter Art sculptures at the HSU Aquatic Center in Eureka, followed by a "silent auction," in an online auction which together pulled in $180,000. Participating artists were offered 10% of the auction price of the otter they painted or decorated.
Visit the North Coast Otters Public Arts Initiative website for more information.
A commemorative auction catalog is available for $15 at the HSU Cashier's Office in the Student Business Services (SBS) Building and The Ink People Center for the Arts located at 627 3rd Street, Eureka. Proceeds from the catalog sales will go toward additional river otter studies and student internships.
After cataloging 20 Otter art sightings, more than 300 "otter spotters" submitted entry forms for a chance to win one of the 32 raffle prizes donated by local businesses, including an adventure kayak tour of Humboldt Bay, and a collection of gift certificates and vouchers.
In addition to raising awareness about wildlife conservation and celebrating the arts, the North Coast Otters project encouraged community members to participate in the ongoing "citizen science" river otter records study by consistently reporting when and where wild river otters are observed throughout the North Coast region.
Since 1999, HSU students have been collecting otter records from citizen volunteers as a means of tracking the quality of North Coast habitats. River otters, seen at all times of day in our area, have captured the attention of thousands. Details of wild river otters may be sent to otters@humboldt.edu.
"As the curtain closes on this wonderful project, remember that when you next see a river otter in the wild, give them a thumbs up, and wish them well," says Black. "And please join us in the spirit of promoting clean water and healthy habitats where we live and play!"
North Coast Otters was a collaboration with North Coast Open Studios, a DreamMaker project of the Ink People Center for the Arts.