Humboldt State University's Nursing and Social Work programs are embarking on a cutting-edge partnership. A new two-year certificate program will offer Humboldt State University Social Work and Nursing students the opportunity to supplement their education with training and clinical hours focused on community health.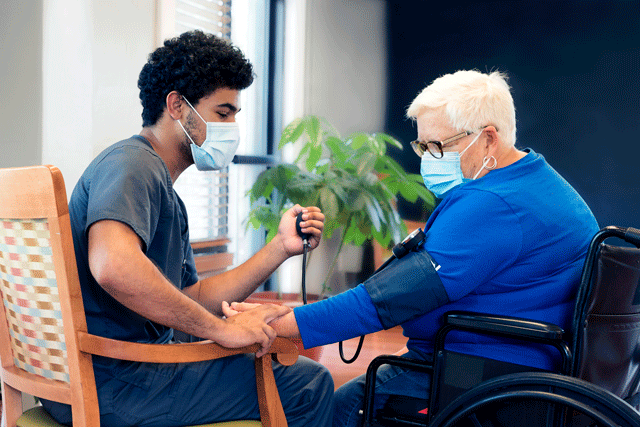 Through a partnership with the California Area Health Education Center, housed under the North Coast Network Clinics Network (NCCN), the Community Health Scholars Program will award each student a $1,000 stipend on completion.
"We are excited to partner with HSU to empower the next generation of graduates to enter the workforce as leaders," says Trisha Cooke, NCCN's Director of Education. "They will be well equipped to improve the health of the communities they serve, especially in rural and underserved areas."
While NCCN will provide the $30,000 grant for the stipends, program and curriculum support, HSU will teach and mentor the students in experiential learning through their community-based health projects and clinical hours.
"The program will focus on primary care transformation with an emphasis on community health and interdisciplinary practice in medically underserved communities," explains Kimberly Perris, Director of Nursing of HSU's RN-to-BSN program that launched this fall.
HSU students studying remotely throughout California can apply to the certificate program, but Pam Bowers, professor of Social Work, stresses that the program is an exciting development for Humboldt County healthcare.
"We're trying to build our workforce from the ground up," says Bowers. She explains that the certificate will give Social Work students a chance to specialize in rural health issues that address communities with "cultural humility and a post-colonial perspective."
"Community health requires a holistic lens," explains Bowers, who stresses that a complete picture of patient health must consider race, gender, and intergenerational trauma.
Both Nursing and Social Work students must complete 80 clinical hours to complete the health scholars certificate. Department advisors will help students find placements that fulfill their degree requirements.
"The health certificate will give the nurses in our program a broad perspective on policy and a competitive edge in the marketplace," says Perris. "It tells employers that they're wholly invested in community health."
Among the touchstones of the health scholars certificate are patient-centered care, leadership and advocacy, quality improvement, community engagement, and addressing burnout in healthcare.
"This is a growing issue, especially in our rural community, where we frequently have to recruit outside the community for trained medical staff," explains Perris. Like the RN-to-BSN degree, the community health certificate will help fill gaps in care by placing more qualified nurses and social workers directly in the local community.
"Nursing and social work is truly the future of healthcare," says Bowers. "This curriculum conveys the necessity and value of interdisciplinary partnership in community health."
With room for up to 20 students, the two-year pilot program will launch this fall. For more information about HSU's nursing and social work programs, visit nursing.humboldt.edu and socialwork.humboldt.edu.