Humboldt State University's new Registered Nurse to Bachelor of Science in Nursing program (RN to BSN) received the green light from WASC Senior College & University Commission, the University's regional accrediting body. HSU is now working on enrolling students and the first cohort of the program is on track to start in Fall 2020.
Image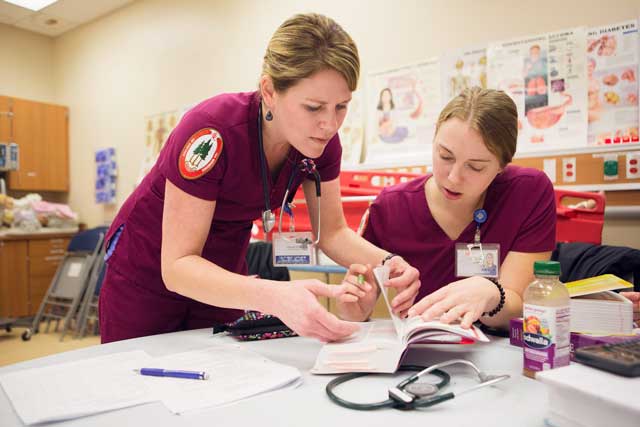 "The upcoming launch of the Bachelor of Science in Nursing program at HSU is a huge milestone for the North Coast," says Senator Mike McGuire. "Our region has some of the most severe nursing shortages in California and this program will create hundreds of family-sustaining careers and help drive down the cost of healthcare. We congratulate HSU, thank their team for the hard work and look forward to welcoming the first class of nursing students to campus this fall."
The program comes as the nation faces a shortage of nurses. Thousands of nurses are near retirement age and Americans are living longer, increasing the need for more geriatric nursing, according to the American Association of Colleges of Nursing. The association cites a U.S. Bureau of Labor report that predicts the nation will need an "additional 203,700 new RNs each year through 2026 to fill newly created positions and to replace retiring nurses."
According to the American Academy of Colleges of Nursing, 79% of employers prefer to hire nurses with a BSN over those who have an Associate Degree in Nursing. That's because the BSN is seen as strengthening nurses' awareness of the profession, improving their communication and clinical reasoning skills, and helping them adapt to an ever-changing health care environment.
"This program embodies HSU's commitment of offering access to affordable, high-quality education that is responsive to the needs of a fast-changing world," says Lisa Bond-Maupin, Interim Provost and Vice President of Academic Affairs.
The University and its partners see the new program as a way to answer the nursing shortage by building the regional nursing workforce and addressing the needs specific to North Coast communities.
Blending in-person and online coursework, the hybrid program will allow registered nurses with an associate's degree to pursue a bachelor's degree without having to leave the area.
The curriculum emphasizes professional knowledge, leadership skills, community-focused healthcare, and compassionate nursing practices in order to support the needs of the North Coast in developing a strong nursing workforce. It will prepare nurse leaders who understand health disparities, rural needs, cultural humility, and practitioners who can advocate for the psychosocial health needs of the region's communities.
"I have been imagining new and redefined roles for nurses for a very long time," says Kimberly Perris, the director of HSU's Nursing program. "It is an honor to lead our new program and I'm excited to see what the next generation of North Coast nurses accomplishes. I envision great things!"
The Nursing program has involved scores of vital partners, including College of the Redwoods. CR's Licensed Vocational Nurse to Registered Nurse (LVN to RN) program, which launched in Del Norte County last month, provides a seamless transition into HSU's program.
"Students who graduate from CR's RN program and our Paramedic/LVN to RN Career Mobility track will be prepared to enter the HSU's program and they're excited about the prospect of obtaining their BSN in Humboldt County," says Roberta Farrar, CR's Director of Nursing.
The community and health care organizations have rallied to help get HSU's program started. Last year, St. Joseph Health provided a lead gift of $2 million to launch the program. Since then, the program has received a $300,000 grant from the Humboldt Area Foundation, and, recently, a $200,000 grant from Sutter Coast Hospital.