Humboldt State University Vice Provost and Dean of Undergraduate and Graduate Studies Mary Oling-Sisay has contributed two original works to a newly released book titled, "Teaching Beautiful Brilliant Black Girls." Designed to help white teachers understand and connect to Black students in their classrooms and communities, the textbook is a collective call to action for educational justice and racial equity.
Published by Corwin books, a leading provider of learning materials for K-12 educators, the volume contains more than 80 contributing authors. Oling-Sisay's contributions include "How Dare You Be Brilliant: The Precarious Situation for Black Girls" and "Navigating Multiple Identities: The Black Immigrant Girl Experience."
"Growing up a beautiful brilliant Black girl myself, I intimately know how important it is for educators to recognize and respect the potential and assets that every student brings to the classroom," says Oling-Sisay. "In this book, I write about the tension of navigating Blackness in a broken educational system and the role of teachers leading us toward a future of radical respect and inclusivity."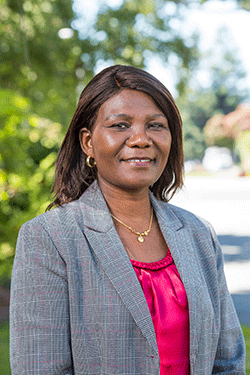 A broadly prepared leader and accomplished educator, Oling-Sisay came to HSU in 2019 with over 20 years of experience in academic and student affairs. Oling-Sisay's own education includes a doctorate in Educational Leadership from the University of Southern California; a Master in Public Communications from Fordham University; and a Baccalaureate degree in English Literature & Linguistics from Makerere University.
Oling-Sisay has published and presented on issues that address inequities in the classroom and in higher education leadership including a chapter titled, "Don't Touch My Hair" in "Culturally Responsive Engagement in Service-Learning," and two chapters in the book, "Navigating Academia: A Guide for Women and Minority STEM Faculty."
"Grounded in both research and practice and brought to life by personal narratives of students, teachers, and parents, 'Teaching Beautiful Brilliant Black Girls' is an important pedagogical resource for all educators who want to empower rather than impede the holistic development of the Black girls in their classrooms," says Beverly Daniel Tatum, President Emerita at Spelman College and author of "Why Are All the Black Kids Sitting Together in the Cafeteria?" and "Other Conversations About Race."