Humboldt State University's growing cadre of international students is diversifying the campus and expanding its global connections both at home and abroad.
Image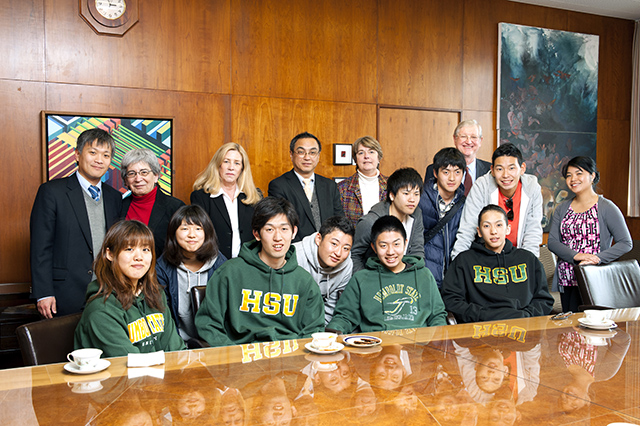 The latest addition is a group of nine Japanese students. Enrolled in HSU's International English Language Institute, they were welcomed by President Rollin Richmond at the end of March. They are living with host families in Arcata, Eureka and McKinleyville.
The new Japanese students are studying English under an MOU that Humboldt State signed last summer with J.F. Oberlin University in the Machida section of Tokyo (independent of Oberlin College, Ohio). Under the agreement, groups of seven to 10 Oberlin students will study at HSU on a continuing basis.
The university is now home to foreign students from 20-plus countries. The international population has more than doubled to the current 149 from 58 in 2007. Nations represented span the continents, from Africa, Asia, Australia and India to the Balkans, Canada, the Caribbean, Central America, Europe and the Middle East.
HSU recently consolidated its international activities in the new Center for International Programs, bringing its multifaceted efforts overseas under one umbrella. They include ongoing Sino-American exchanges and new recruitment centers in Beijing and four other Chinese cities (Guangzhou, Shenyang, Shanghai, and Xi'an). They also include student recruitment efforts focused on Indonesia, Japan, South Korea, Taiwan, Thailand and countries throughout the Middle East.
Humboldt State also has an agreement with the Chinese Service Center for Scholarly Exchange, Beijing, which will lead to partnerships for "pathway programs." They will enable Chinese students to study for one or two years at a domestic university and then complete their degrees at HSU.
Future growth is being cemented as well in a new partnership with Brazil. The Center for International Programs signed a memorandum of understanding (MOU) recently with Brazil's Universidade Federal de Mato Grosso, Cuiba, for academic exchanges, program development and research.
In addition, HSU is an applicant to be a Host Institution for Science without Borders, Brazil's initiative to send 100,000 of its students to the U.S. to pursue the high-demand STEM disciplines offered by HSU's College of Natural Resources and Sciences: science, technology, engineering and mathematics.
The new recruitment offices in Beijing and satellite cities buttress the university's multiple partnerships with Chinese institutions of higher learning, anchored by the alliance with China's Xi'an International Studies University. The partnerships enable HSU to recruit and matriculate Chinese students in residence at the Arcata campus.
This summer, seven more students are projected to join Humboldt State's contingent from Saudi Arabia, currently numbering 25. Saudi Arabians began attending HSU in 2008 and the first group is slated to graduate this May.
The growth of HSU's global student body complements the school's other long-term international initiatives. The HSU Belize Archaeology Field School, directed by Marisol Cortes-Rincon, sends students to excavations at several Maya sites and provides them with laboratory experience working directly with excavated Maya artifacts.
Teresa Stanley, chair of the Art Department, superintends the Greek Art Program, an intensive studio/cultural history experience centered on an extended student stay in a coastal village on the Pelion peninsula. The program includes visits to classical archeological and architectural sites like the Acropolis and the temples at Delphi.
Under the auspices of Practivistas Dominicana , led by Lonny Grafman in the Department of Environmental Resources and Engineering, HSU students engage in community collaboration in the Dominican Republic, contributing to initiatives in conservation, recycling and renewable energy.
The Quito Program, a summer engagement in Ecuador named after that nation's capital, places students with Ecuadorean families. The program includes Spanish language immersion, regional history, local service learning projects and academic visits to cultural and natural sites guided by Ecuadorian faculty and by Professor Rosamel Benavides-Garb, chair of Humboldt State's Department of World Languages and Cultures, and Professors Lilianet Brintrup and Francisco de la Cabada of the same department.
Benavides-Garb describes the Quito Program as a "deep, fundamental educational exercise. It includes a vital discovery of the self and follows in the footsteps of Humboldt State's namesake, 19th-century explorer Alexander von Humboldt, who included Ecuador in his world travels."
HSU's overseas linkages are also fostered by the Schatz Energy Research Center. The Schatz Lab's student-led Bhutan Smart-Grid Project wrapped up in 2012 and its solar lighting outreach is now expanding to India from Africa.