"Fight! Fight! Fight for Humboldt State!" HSU Jacks and students shouted during the Associated Students Pep Rally, Wednesday night.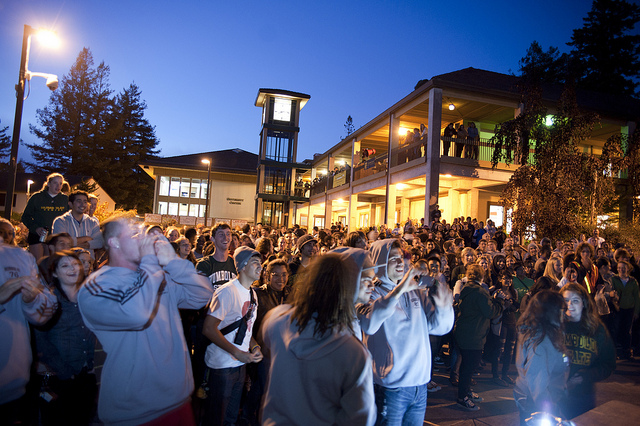 By 8 p.m. hundreds of students, families and alumni had gathered on the UC Quad, ready to raise team spirit for the Jacks' first home game. "We really appreciate the support," shouted Lyndon Rowells, the Jacks running back. "We're really looking forward to you all coming out tomorrow for the game!" The Jacks would go on to win the game against Central Washington 38-36. Read full coverage here.
Even the Bookstore was filled with team spirit and stayed open with the pep rally until 10 p.m. Bookstore employees stepped outside to dance and wave their HSU foam fingers along to music by D.J. Bret "Bretski" Jacobsen, a junior Sociology major. Clubs also joined the spirit with booths along the Quad.
The pep rally began with the Marching Lumberjacks playing music and dancing in front of the Depot. After the band played, D.J. Bretski turned up the volume and started playing music for the car bash.
Lucky Logger, the HSU mascot, took the first hit on a BMW for the car bash on the UC Quad. After he smashed the windshield and the hood of the car, people quickly gathered in line to sign up and take a swing at the car.
Twenty minutes into the pep rally, over 500 people were at the UC Quad. "I really liked the pep rally," says Melissa Garcia, senior transfer from Valencia, Calif. This is Garcia's first year at HSU. "I'm older than some students, but it made me feel young again. It's cool."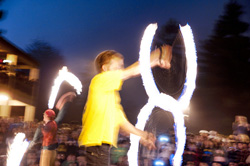 Garcia attended the pep rally with friend Rosalie Armiao, a senior who is also experiencing her first year at HSU. "The pep rally is really building a following. I like it," Armiao says.
D.J. Bretski agreed with Armiao and was impressed with the amount of people that came together to support their Jacks. "This is a great event. Its such an awesome turnout," he says. Students gathered in front of the University Center clock tower and danced to his dub-step beats.
Football players and coach Rob Smith gathered above the UC Quad and gave shout-outs of encouragement. Smith shouted, "I wish alumni from five years ago, 10 years ago, 20 years ago, could come see this right now. This is what makes Humboldt State special. Its all about the students!"