We all know that maintaining a healthy lifestyle and mindset is key to success. But come finals week, good habits often fly out the window as we invite stress in the front door. Checkout these campus resources and events to stay balanced, keep active, and feed your brain as you hit the books this month.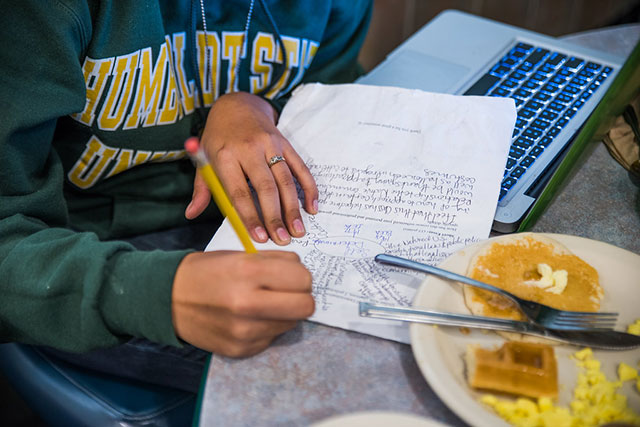 Start with The Wellbeing Map, an interactive tool that explores the many elements of wellness with tips for self-care. And in times of stress, make sure your peers and friends know about HSU's Counseling & Psychological Services which offers individual and group counseling, including virtual workshops like Managing Anxiety and Maximizing Wellness.
You can also unwind by visiting the Brain Booth, an experiential space that teaches users about mindfulness, practicing gratitude, and reducing stress. Students are especially encouraged to explore the positive impacts that taking an intentional brain break can have on their academic success.
Stay Nourished
How you eat is directly linked to how you perform on an exam! Be sure to drink plenty of water and increase your uptake of leafy greens, healthy fats, complex carbs, vitamin C, and omega 3 fatty acids, which all contribute to different brain and bodily functions related to optimal performance.
Where to find those healthy eats? Stop by any campus eatery, or visit Oh SNAP! in the Recreation Wellness Center lounge to pick up FREE and nutritious ingredients and healthful snacks during the following hours:
Wednesdays: 10:30 a.m.-2 p.m.
Thursdays: 2 p.m.-6 p.m.
Friday: 9:30 a.m.-11:30 a.m. and 2:30 p.m.-4:30 p.m.
Saturday: 10 a.m.-3 p.m.
If you can't make these hours, email ohsnap@humboldt.edu for delivery options.
And don't forget the power of old-fashioned carbo-loading with a Late Night Breakfast study break at SAC on Monday, December 13, from 8 to 11 p.m. The fun-filled night kicks off the last week of the semester with food served until 10 p.m. Free for all students, enjoy waffles and hot links along with sounds from our DJ, a photo booth, and fun activities.
Get Moving
Boost your mood and improve focus by raising your heart rate and stretching cramped muscles. From the redwood forest to the ocean, HSU students have incredible access to fresh air. Try taking a stroll through the Arcata Community Forest behind campus, throw a frisbee on the beach, or drop by the Student Recreation Center for a quick workout.
Trying something new can also be a powerful way to stimulate the mind and body. Don't miss these opportunities to check out and tune into some relaxation and fun as the semester draws to a close:
Students are invited to join a Virtual Yoga & Meditation session led by Sasha Wallace on Thursday, Dec. 9, from 3 to 4:30 p.m. No experience is required for the relaxing yoga class, which will be followed by 30 minute meditation. Email jcb43@humboldt.edu with any questions, or to sign up and get the Zoom link.
Check out Circus Playtime for a night and learn how to juggle, play, and flow on Wednesday, December 8 and 15, from 6 to 9 p.m. Led by HSU's own Circus Club, playtime takes place in Room 126 at the Recreation & Wellness Center. No experience necessary! Email thehumboldtcircus@humboldt.edu for more info.
From everyone at HSU––good luck and Happy Holidays!