Four universities. One college. Five presidents. All have long and distinguished careers in higher education that began with degrees at Humboldt State University.
Image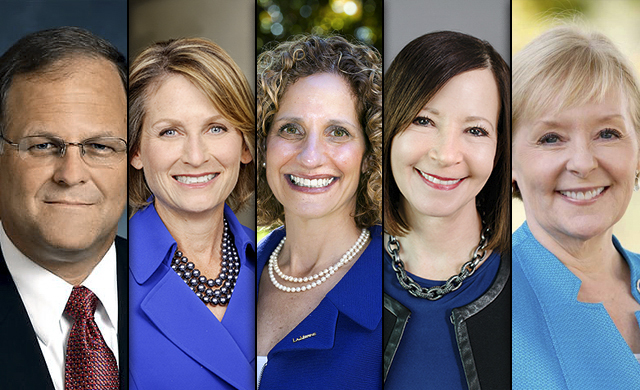 The most recent alumna to join the presidential ranks is Cathy Sandeen  ('76, Speech Pathology and Audiology). Currently the chancellor of the University of Alaska Anchorage (UAA) and a native of Oakland, California, Sandeen will return home to take the helm of California State University East Bay on January 4. She recently reflected on her HSU experience, saying her years as an undergraduate at Humboldt was a defining period in her life.
"My time at Humboldt State University was truly transformative. I arrived as a 17-year-old, first-generation college student living on campus with roommates from different backgrounds. My professors were proactive, approachable, and encouraging, a good thing for someone who was completely intimidated by the educated people I encountered. Because of them, I found my place at the university," said Sandeen.
Prior to her time at UAA, Sandeen served as chancellor of the University of Wisconsin Colleges and University of Wisconsin-Extension from 2014-18. In that role, she served as leader and chief administrator and was responsible for the academic, financial and administrative activities of two statewide higher-education institutions. More: HS NOW story (2020) | Humboldt magazine profile (2015)
Another leader in the CSU system, Lynnette Zelezny ('79, Psychology and '81, M.A. Psychology) was named the first woman president of CSU Bakersfield in 2018. She has an MBA and leadership training from Harvard University and the Wharton School of Business.Throughout her career, Zelezny has held several positions at CSU Fresno, including chair of the psychology department, associate dean for the university's business school, dean and associate vice president for the extended education division, and associate provost.
Zelezny's family has strong roots at HSU. Her daughter, Serena ('04) and her husband, John ('78), a 2004 recipient of the Distinguished Alumni Award, are both Journalism alumni.
Zelezny recalls being inspired by retired HSU Psychology Professor Mary Gruber while working as her teaching assistant and learning from her teaching and research skills. "Mary's class really changed my life," Zelezny says. "She had a way of bringing out the fire in you." More: Forever Humboldt profile (2018) | Zelezny's bio
Like Zelezny, Devorah Lieberman ('75, Speech Communication) shattered the glass ceiling, becoming the first woman president of the University of La Verne in Southern California in 2011. She is the former provost and vice president for Academic Affairs at Wagner College in New York.
With a thirst for knowledge, Lieberman was driven to succeed during her time at HSU. "I was a very serious student focused on going to graduate school," she said. As a university president, Lieberman's priorities are supporting underrepresented, low-income, and first-generation students. That commitment is clear in her published work, which focuses on diversity and contemporary issues in higher education. She is also the recipient of the Oregon Council for Hispanic Advancement's Si Se Puede Award and the Las Mujeres de la Raza Award from the Portland State students and the City of Portland. More: Humboldt magazine profile (2011) | Lieberman bio
Bethami Dobkin ('85, Speech Communication), president of Westminster College, Utah's only private liberal arts college, grew up in Arcata and her father, Milt Dobkin, was HSU's Vice President of Academic Affairs from 1969-1986. She became a Communication professor at the University of San Diego for 17 years until 2005, when she was named associate provost there in 2005. Three years later, she became Provost and Vice President of Academic Affairs at Saint Mary's College.
Looking back at her time at HSU, she recalls learning crucial life lessons from the HSU Debate program. "Some of my most important foundations in critical reasoning, deliberation, and communication came through the HSU debate program," Dobkin said. "I learned the importance of good argumentation, and also the importance of not having to win. That led to a lifelong interest in modeling critical conversations that build connections and help create common ground." More: Humboldt magazine profile (2013) | Forever Humboldt profile (2019) | Dobkin's bio.
The 14th president of North Dakota State University, Dean Bresciani ('84, Sociology) found his passion at HSU: supporting students. "I was involved with the Humboldt Orientation Program, HOP. I did that, to be honest, to avoid working for my dad over the summer," said Bresciani, recipient of HSU's Distinguished Alumni award in 2012. "But the light went on. I got excited about helping students succeed in college."
"Without the type of experience or opportunities I found at HSU, I might have never found my life's calling," said Bresciani.
Bresciani answered that calling over the years as a professor and administrator at various institutions around the country, including Texas A&M University in College Station and University of North Carolina at Chapel Hill. More: Humboldt magazine profile (2010) | Bresciani's bio.