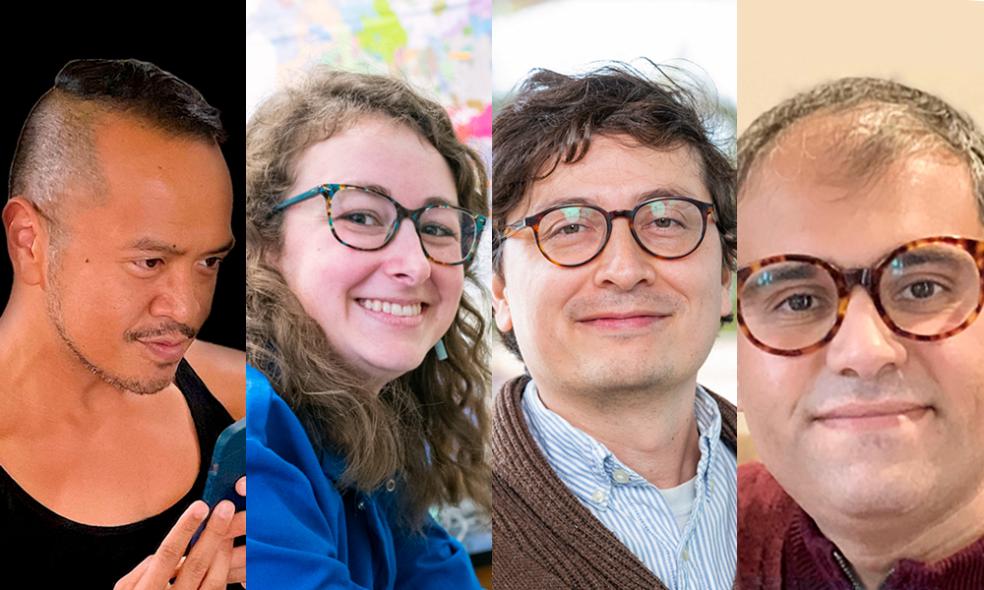 The awards honor President Alistair McCrone and recognize the accomplishments of Humboldt's excellent newer faculty members and students.
Cal Poly Humboldt professors Oscar Vargas, Biological Sciences; Paul Michael Leonardo Atienza, Critical Race, Gender & Sexuality Studies (CRGS); and Rouhollah Aghasaleh, School of Education, are recipients of the 2023 McCrone Promising Faculty Scholars Award.
Selected for exhibiting potential in a specific field, each faculty member will receive $1,500 to assist a program of creative activity, scholarship, or research. In addition, Environmental Systems graduate student Regina Khoury won the Alistair and Judith McCrone Graduate Fellowship. Khoury has been selected for demonstrating potential to succeed in his her chosen field.
The awards honor President Alistair McCrone and recognize the accomplishments of Humboldt's excellent newer faculty members and students.
Following are brief biographies of the 2023 McCrone Promising Faculty Scholars and the Alistair & Judith McCrone Graduate Fellowship Award winner.
Oscar Vargas, Biological Sciences
Oscar Vargas studies plant biodiversity and evolution using a combination of traditional botanical methods, as well as modern DNA sequencing techniques. Since arriving at Cal Poly Humboldt, Vargas has built an impressive research lab environment in which both graduate and undergraduate students are involved in his work on biodiversity hotspots. Vargas studies how plant biodiversity evolves over time and across large landscapes using phylogenomics, comparative phylogenetics, and biogeography. His work focuses on speciation in groups of plant species in the Neotropics and the California Floristic Province. Both regions are excellent places to study plant evolution and speciation patterns, and Vargas has created a student-centered research lab focused on plant biodiversity. Vargas has mentored four graduate students and more than 25 undergraduates. 
In addition to the student enthusiasm for plant biodiversity that Vargas has fostered on campus, he has been highly productive in terms of publications, grants, and presentations. Since 2020, he has published seven peer-reviewed articles in high-ranking journals including Evolution, New Phytologist, American Journal of Botany, and Functional Ecology. He has been awarded $28,516 for his research from six different grants, and he has a full National Science Foundation proposal pending for $487,752. 
Vargas, whose work is well-received in his field, is contributing to Cal Poly Humboldt's nationally-recognized program in botany and evolutionary biology. 
Paul Michael Leonardo Atienza, Critical Race, Gender and Sexuality Studies (CRGS)
Paul Michael Leonardo Atienza's broad research interests coalesce into the study of mediated bodies in performance. Atienza's current scholarship translates into multiple projects that amplify underserved Asian/American voices through ethnographic writing, drag performance art, and decolonial praxis in the classroom. Atienza focuses on Filipina/o/xs' lives, cultural practices, and social issues in the homeland and the diaspora as they generate digital worlds and inspire a creative multimedia practice. Atienza also engages students and community leaders in reimagining how people learn together through collaboration that fosters a feminist ethic of care and solidarity.
Atienza's book project, The Promise of Intimacy: Queer Filipina/o/x Digital Desires, examines the lives of queer Filipina/o/x men in Manila and Los Angeles through mobile digital media to ask how conceptions of intimacy are challenged, reaffirmed, and undone in the context of alienations produced by trans-Pacific capitalism.
Atienza's study suggests that unequally interconnected social, technical, and affective infrastructural systems influence how queer Filipina/o/x men create multiple and overlapping digital worlds of desire, longing, and frustration. 
Atienza's digital ethnographic project, performance art practice, student collaborations in the classroom, and community-engaged scholarship are interdisciplinary studies toward just global societies. Atienza is advancing the fields of Asian and Asian American studies, gender and sexuality studies, performance studies, and digital studies that will support Humboldt's polytechnic core values through transnational scholarship and service.
Rouhollah Aghasaleh, Education
Rouhollah Aghasaleh (Ph.D. The University of Georgia) is an assistant professor in the School of Education. His scholarship lays on an intersection of critical middle grades education, cultural studies of curriculum, and new materialist feminism that addresses the issues of equity and its impact on the education system. 
Rouhollah has contributed research that directly supports efforts for teachers to meet the needs of a more diverse array of students. He is the editor of the Brill volume, Children and Mother Nature: Storytelling for a Glocalized Environmental Pedagogy. He also edited a special issue on Curriculum Theorizing in Post-truth Era. 
Rouhollah's scholarly work has been featured in journals of African American Studies, Curriculum Theorizing, Curriculum and Teaching Dialogues, Research in Science Teaching, Activist Science and Technology Education, Reconceptualizing Educational Research Methodology, etc.
As an educator who teaches for social justice, teaching is where Rouhollah's scholarship and activism meet to create an environment that is conducive to justice for historically and politically underrepresented, oppressed, and misrecognized students by taking emancipatory theories beyond the textbooks.
Regina Khoury, Environmental Systems (Geology)
Regina Khoury is a first-year graduate student in the Environmental Systems – Geology program. She earned her BS Geology degree from Humboldt in August 2018 and is a bright, thoughtful, hard-working, and highly motivated geologist with a passion for volcanic and magmatic processes. The combination of her academic foundation, prior research experience, familiarity of state-of-the-art equipment, and strong work ethic make her uniquely well-prepared for success as a Cal Poly Humboldt graduate student.
Khoury is already an active contributor to the field of Geology thanks to her solid academic foundation and the mentoring she received as a student at Humboldt and a Geologist with the U.S. Geological Survey (USGS). Her training in scientific design and planning, data collection and analysis, and scientific writing contributed to the publication of four scientific abstracts since 2019. Three abstracts detail results of lithium analysis of minerals in volcanic rocks with USGS co-authors at annual American Geophysical Union and Goldschmidt Assembly meetings. A fourth abstract describes her senior thesis at a Geological Society of America (GSA) meeting. In addition, Khoury's strong work ethic, collaborative and inclusive personality, and eagerness to learn and further develop her skills are strong indicators that Khoury's potential as a contributor to Geology will continue to grow with time.