Humboldt State's Reese Bullen Gallery hosts a special event with a renowned California-based printmaker and local poets.
Image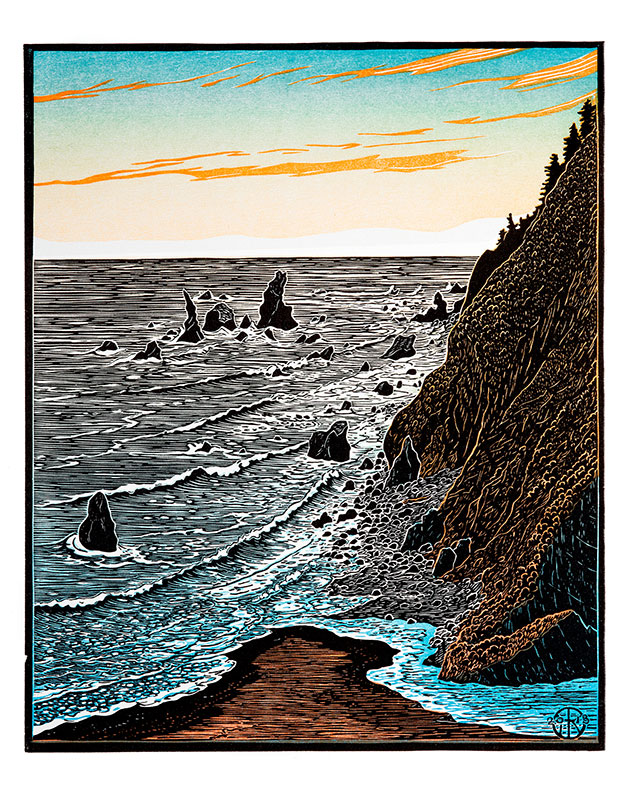 An artist talk by critically-acclaimed printmaker Tom Killion along with poetry readings by Jerry Martien and Jim Dodge takes place Thursday, Sept. 22 at 5:30 p.m. in the Authors Hall, located on the second floor of the HSU Library. A reception will follow in the Reese Bullen Gallery.
Killion, a California-born artist, is well known for his four decades of work in the medium of woodcut printmaking. Killion uses Japanese carving tools, papers, and his own adaptation of the traditional key-block process to create relief prints of landscapes. Killion, who lives in Point Reyes, Calif., recently published "California's Wild Edge: The Coast in Prints, Poetry, and History," available from Heyday Books.
The book includes Martien's poems from his collection, "Pieces in Place," that were written in the early '80s while living in Trinidad, Calif.
Martien has worked at a number of occupations, including bookstore clerk and carpenter, and for the past two decades as an instructor of literature and writing at Humboldt State. He is also a student of money and culture, and has published "Shell Game: A True Account of Beads and Money in North America," and recently "The Price of a Life: Shell, Gold, Carbon Notes and Weed: Four Kinds of Money in the Humboldt Bay / Six Rivers Region," a history of the North Coast economy under his pen name Dr. Loon.
Contributing writer Jim Dodge received his Master of Fine Arts in creative writing and poetry from the University of Iowa Writers Workshop in 1969 and was the director of the Creative Writing program at Humboldt State. He is the author of three novels—"Fup" (the 2013/14 HSU Book of the Year), "Not Fade Away," "Stone Junction," and a collection of poetry and short prose, "Rain on the River."
The talk and poetry readings are part of "California's Wild Edge: The Coast in Prints, Poetry, and History," a new traveling exhibition featuring Killion's work. The exhibit appears in HSU's Reese Bullen Gallery through Oct. 8.
The exhibit was originated by the artist and the San Francisco Public Library and is traveled by Exhibit Envoy.
About the Reese Bullen Gallery
The Reese Bullen Gallery is named in honor of a founding professor of the Art Department and has been an HSU institution since 1970. Located in the Art Building, the gallery houses the University's permanent collection of art and sponsors exhibitions of works by professional artists related to our many areas of instruction.
The gallery is open Monday, Tuesday, and Wednesday from 12 to 5 p.m., Thursday 12 to 7 p.m., Friday 12 to 5 p.m., and Saturday 10 to 2 p.m., with free admission to exhibits and events.
For more information, contact the gallery office at (707) 826-5814 or rbg@humboldt.edu. For parking information, please visit humboldt.edu/parking.