Humboldt State University's distinguished CIRM Bridges Program has once again been awarded with generous grant funding from the California Institute for Regenerative Medicine (CIRM). Led by Biology Professor Amy Sprowles, HSU's CIRM Bridges is designed to support students from diverse backgrounds committed to improving human health through stem cell research and gene therapy.
Image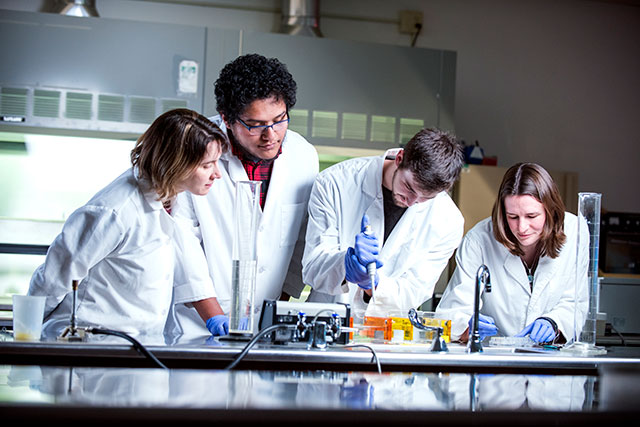 HSU is one of 15 California universities to secure funding from the 2021 CIRM Bridges 3.0 Program. The more than $3.6 million award will fund a diverse cohort of 10 undergraduate and graduate CIRM scholars each year over the next five years. Each paid student internship is sponsored by one of the program's collaborating host institutions: Cedars-Sinai Board of Governors Regenerative Medicine Institute, The Stanford University Institute for Stem Cell Biology and Regenerative Medicine, The University of California Davis Stem Cell Program, The Gladstone Institute, and Takeda California.
The program kicks off each summer with CIRM Immersion, an HSU course designed to introduce the student interns to the fields of stem cell biology and regenerative medicine. They also receive hands-on training in HSU's teaching labs and participate in a workshop in bioinformatics and computational biology co-led by Biological Sciences Professors Catalina Cuellar Gempeler and Oscar Vargas and faculty from Stanford University.
Over the 12-month internship period, students relocate to work in-person at their sponsoring institution's lab while being mentored in hybrid courses by HSU faculty. Sprowles and the CIRM Bridges Program are supported by HSU Co-Principal Investigators Brigitte Blackman, Biology instructor; Jenny Cappuccio, Chemistry professor; and Nievita Bueno Watts, Indian Natural Resource Science & Engineering Program (INRSEP) director.
"Our interns receive advanced training in the research methods and manufacturing practices required to develop cellular-based therapies for emerging and unmet medical needs," explains Sprowles. "They also receive personalized career mentoring so they are poised to enter graduate programs, medical school, or begin careers as laboratory scientists."
Since winning two previous CIRM awards in 2009 and 2016, HSU's cutting-edge program has trained more than 100 students. To date:
• 39% are first-generation college students
• 43% are from low-income families
• 89% are pursuing careers in the biomedical sciences
• 11 have completed Ph.Ds
• 5 have completed M.D. or D.O. degrees
• 18 are currently working on doctoral degrees
• 8 are currently enrolled in M.D. or D.O. programs
"This program provides a very unique opportunity for HSU students to participate in cutting-edge research in the top biomedical labs in the world," says Sprowles.
In the third iteration of the program, inclusivity is a top priority and supported through a partnership with INRSEP. CIRM scholars also make an impact on the North Coast, where gaps in the rural healthcare system disproportionately affect tribal members and underrepresented minorities.
"In collaboration with the Humboldt Medical Society and Pre-Medical Task Force, CIRM scholars return from their internships to help educate our campus and rural, medically underserved community about regenerative medicine, all while gaining awareness of socio-economic issues and disparities around health care and access," Sprowles explains.
Connecting students to valuable opportunities for hands-on learning and career development, the CIRM Bridges program is illustrative of HSU's future as a polytechnic, adds Sprowles.
"We've had students work on research projects that address topics as diverse as diabetes, brain cancer, and COVID-19."
About the California Institute for Regenerative Medicine (CIRM):
CIRM was established in 2005 with the passage of Proposition 71, the California Stem Cell Research and Cures Act. CIRM is the world's largest source of funding for human embryonic stem cell research. For more information, visit cirm.ca.gov.
For more information about the CIRM program at HSU, visit cirm.humboldt.edu.