Humboldt State University researchers have been awarded a $271,000 federal grant to help two Northern California fishing communities improve the social, economic, and environmental sustainability of their waterfronts.
Image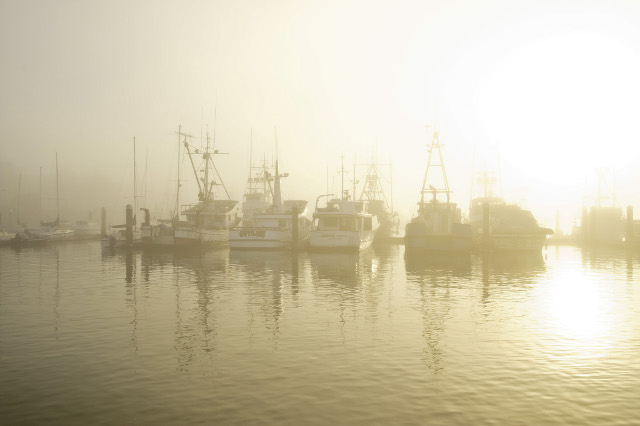 "Our North Coast fishing communities depend on the latest research to make their waterfronts as sustainable as possible," said Rep. Jared Huffman, D-San Rafael. "These much-needed federal funds will help preserve these communities that are so vital to the economic and social well-being of California and the entire country."
Led by Environmental Sciences & Management Professor Laurie Richmond, the project is aimed at developing strategic plans for fishing communities in Eureka and Shelter Cove. The grant was awarded by National Oceanic and Atmospheric Administration's Saltonstall-Kennedy program and will help fund the project, which is set to begin in January.
The project stems from a three-year assessment to examine the human dimensions of California Marine Protected Areas. Starting in 2013, Richmond and Economics Professor Steven Hackett surveyed and interviewed about 200 charter and commercial fishers and conducted focus group meetings with fishers in the five North Coast ports, including Eureka and Shelter Cove.
"Sometimes with new regulations, the fishing community feels forgotten. Here we can give them a voice," Richmond says. "So we're looking at things we can do within the existing regulatory structure and take steps to make sure the fishing fleet survives and thrives."
Their findings revealed a concern for the future of fishing communities and painted a picture of an industry affected by substantial declines in the number of fishing vessels and infrastructure to support fishing activities, and an increase in the average age of commercial fishermen as fewer younger people are entering the industry.
According to Hackett and Richmond, commercial fishers in Eureka have generated annual earnings between about $5 and $24 million a year over the past decade. In 2013, the port had 193 active vessels and nearly $23 million in earnings at the dock—the third highest of any port in California. But with a shrinking fleet starting in the 1980's, there are concerns about sustaining support services and infrastructure.
Ninety miles away is Shelter Cove, one of the state's smallest ports and one that faces unique issues. The community currently lacks an active fishers' association and due to various market factors, locals often can't buy locally caught fish. The tiny sea village is also unique because it supports a fishing industry without a harbor.
Fishers rely on tractor-trailers to move boats to and from the water. As a result, commercial and recreational fishing efforts tend to be small-scale and community-based. Locals said that close to 100 small vessels – known as the Mosquito Fleet – used to fish out of Shelter Cove each summer. Now, only a handful of commercial and charter operators work out of the port.
The surveys highlighted another notable trend: an aging demographic. More than a third of North Coast commercial operators are over 60 years old. With fewer young people in commercial fishing, fishers are concerned about passing on knowledge and the legacy of local fishing.
Based on these findings and to address concerns of fishers, Richmond and Hackett are moving forward to develop Community Sustainability Plans (CSPs), which they say will help to rebuild and strengthen Eureka and Shelter Cove fishing economies.
HSU researchers will gather socioeconomic data (e.g., perceptions about current conditions of the community, information on the economic performance of the commercial and recreational fishing industries, etc.) and community feedback to create the plans.
The sustainability plans are expected to provide a social, economic, and environmental snapshot of the fishing communities and offer concrete recommendations to improve the long-term viability of commercial and recreational fishing.
Project team members include HSU professors Brian Tissot (Biology) and William Fisher (Economics), and Joe Tyburczy of California Sea Grant. The team will partner with Lisa Wise Consulting, a planning firm that has already worked with the communities of Morro Bay and Monterey to develop similar plans.
In addition, Richmond and Hackett will collaborate with government entities including the City of Eureka; Shelter Cove Resort Improvement District; Humboldt Bay Harbor, Recreation and Conservation District; Humboldt County; and the federal government. These collaborations will help ensure that plans are community-driven and implementable.
"The plans are really a road map that will bring together recommended actions and allow the community to prioritize these actions," says Richmond.