Engineers at Humboldt State's Schatz Energy Research Center (SERC) are using their expertise in sustainable technology to increase clean water access in the developing world.
A team of two staff engineers and two student assistants recently developed a solar power option for a device called the SE200, which uses electricity to purify contaminated water. The system offers a sustainable alternative to traditional purification methods like boiling in places like sub-Saharan Africa.
The SE200 is an electrochlorinator, an appliance that turns salt water into chlorine, which is used to disinfect contaminated water. Electrochlorination is a common disinfecting technique that has only recently been used in third world countries.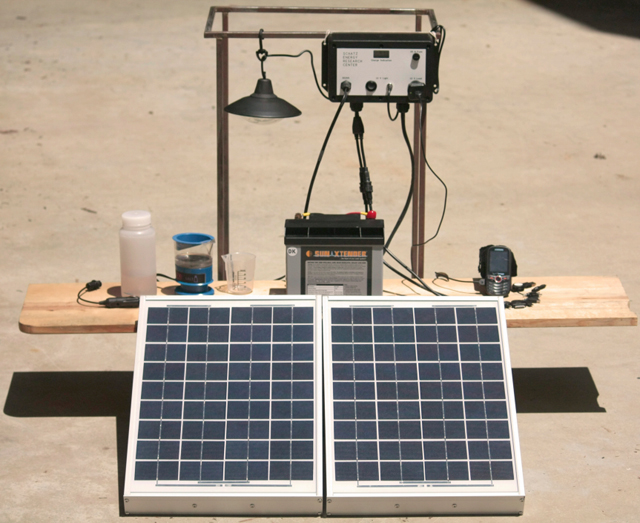 "What we've been able to do is take this technology a step further, make it sustainable and extend it to people who live off the electricity grid," says SERC Engineer Peter Alstone ('09, Environmental Systems), who designed the device with Robert Hosbach ('11, Environmental Resources Engineering), Kristen Radecsky ('09, Environmental Systems) and Zak Stanko ('12, Environmental Resources Engineering).
SERC was asked to create the renewable power system this summer by Cascade Designs Inc., a Seattle-based company that developed the SE200 in 2008 in partnership with PATH, a non-governmental organization that promotes public health in the developing world. SERC was a natural choice for the project because of its work supporting low-carbon lighting options for the World Bank Group's Lighting Africa Program and the U.S. Department of Energy's Lumina Project, Alstone says.
SERC engineers created two solar-powered clean water devices. The first was a 40-watt system for community water kiosks that can treat up to 9,000 liters a day, charge cell phone batteries and power LED lights. The second was a mobile, 20-watt device for aid organizations that can treat up to 3,000 liters a day during emergencies.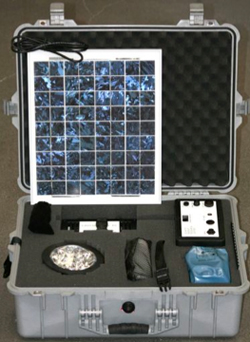 The International Finance Corporation estimates that about 3 billion people worldwide live without regular access to clean, piped water and that many suffer from waterborne illness as a result. In rural areas, boiling is the most common water purification method, but it requires the burning of fossil fuels, which increases greenhouse gas emissions.
Using the United Nations' Clean Development Mechanism methodology, SERC engineers estimate that the SE200 uses 10,000 times less energy than traditional purification methods like boiling. Entrepreneurs looking to subsidize the system can use that potential reduction in greenhouse gas emissions to apply for carbon financing, an international mechanism established after the Kyoto Protocol that facilitates financial rewards for projects in developing countries that reduce greenhouse gas emissions.