An innovative new Humboldt State organization, Ciencia Para Todos, promotes "science for all" through bilingual education to inspire elementary school students to consider science majors in higher education. (Pictured are HSU students and Ciencia Para Todos members, Christian Trujillo and Diana Martinez, in February.)
Image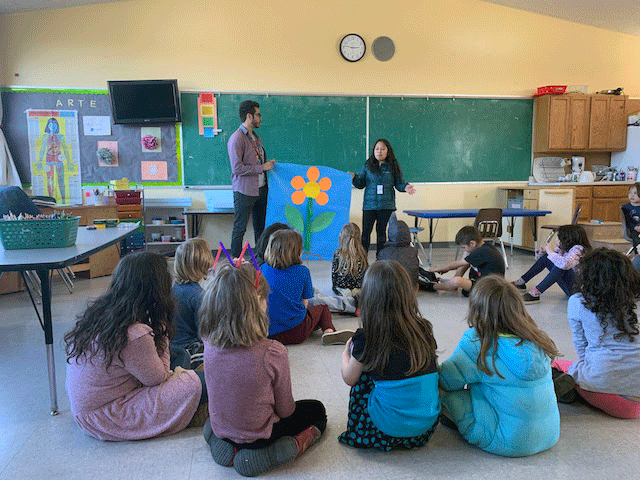 As an Environmental Science and Management major, Humboldt State senior Christian Trujillo noticed he was one of the few Latinx students in his classes. Talking with classmates Diana Martinez and Odalis Avalos, often in Spanish, the group of friends started to brainstorm how to make science classes more approachable for underrepresented students. Today, Trujillo is the program director of the innovative new campus organization, Ciencia Para Todos, which promotes "science for all" through bilingual education.
"The lack of representation in science has created an absence of opportunities, especially for those with diverse perspectives and knowledge in other languages," explains Trujillo. "We want students to realize that they are capable of also being STEM professionals in the future."
To inspire elementary school students to consider science majors in higher education, Ciencia Para Todos developed hands-on science activities, taught in Spanish. Partnering with Fuente Nueva Charter School in Arcata, Trujillo and his team led activities like El Increible Viaje del Agua, where students learned about the cycle of water through dance. In Las Abejas Trabajadoras, students went around the room pollinating flowers like bees using pipettes and cotton balls to demonstrate how honey is made.
Established in Fall 2019, Ciencia Para Todos had just gotten off the ground when the COVID-19 pandemic hit. As HSU classes transitioned online, Trujillo, a native of San Francisco, quickly pivoted to serving Bay Area Latinx youth who face disproportionate health outcomes due to COVID-19.
"I've been working with Latino Task Force and Collective Action for Laborers, Migrants & Asylum Seekers in San Francisco," says Trujillo. Both nonprofit organizations are focused on getting COVID-19 tests, food assistance, and housing support to families in need.
While doing data analysis for NASA this summer, Trujillo integrated the Ciencia Para Todos mission into his work by bringing a culturally sensitive lens to NASA's education outreach. In anticipation of the 2022 mission to the asteroid Psyche, where astronauts will explore a world of metal for the first time, NASA created a series of educational children's coloring books.
"I wanted to help kids understand the mission," says Trujillo, who translated the coloring books into Spanish. The data from Psyche is expected to give scientists valuable information about similar metals found deep in the core of planet Earth—an exciting concept for future astronauts.
On the HSU campus, Ciencia Para Todos has partnered with the Society of Hispanic Professional Engineers, El Centro Académico Cultural, and the Indian Tribal & Educational Personnel Program to promote diversity and representation in the sciences.
"We want to bring awareness to the way science is being taught in our communities," explains Trujillo. "It's important to create welcoming and safe spaces for Spanish-speaking students in STEM."
Ciencia Para Todos is focused on recruiting new HSU students to help the organization secure grant funding and build capacity for bilingual education in STEM throughout California.
"Now we're trying to come up with programs that students can do via ZOOM," says Trujillo.
For more information, visit "Ciencia Para Todos"https://hsucienciapt.wixsite.com/original.