The seismic retrofit work on the Humboldt State University Library and Theatre Arts building is nearly complete.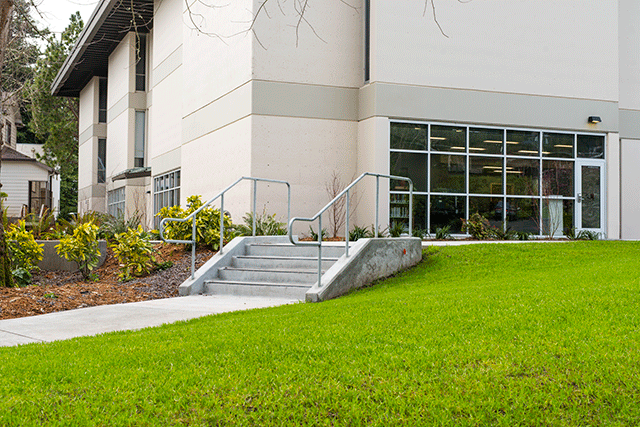 The $34 million project began in 2018 and was funded by bonds issued by The California State University and other sources specifically for these renovation projects. The funds are separate from HSU's operating budget.
The revisions improved the safety and integrity of the buildings based on engineering models of a very large earthquake. The retrofit projects included completion of seismic elements, such as modified walls and strengthened columns and doorways, to achieve the seismic strengthening required to mitigate hazards; installation of code compliance upgrades like improving the accessibility of parking, restrooms, elevators, and drinking fountains; and improved efficiency in building operations.
In addition, HSU will install automatic fire sprinklers and a new fire alarm system for the entire Library.
These projects are expected to be complete by the beginning of the Fall 2021 semester.
Some of the programs displaced by the construction will be returning to newly remodeled spaces in the Lower Library. They include the Student Disability Resource Center, Veterans Enrollment & Transition Services, and Testing Center. Several programs have relocated to the Lower Library as well, including Youth Educational Services, the Academic & Career Advising Center, and Center for Community Based Learning.
The temporary trailers erected on the Campus Events Field have been removed, the walkway will remain, and the field is scheduled to be rehabilitated in Spring 2022.
When it's safe to return to campus, more information will be shared about the updated locations of offices and other campus spaces in regards to the retrofit.