Shahrooz Roohparvar has been appointed the Vice President for Administration and Finance. He begins his role on May 1, 2021.
Nearly everything a university does is impacted by the Chief Financial Officer on a daily basis. From operations, to police, to budget, and policy.
"Shahrooz is an incredibly talented individual with years of campus and business experience," says HSU President Tom Jackson, Jr. "His ingenuity, entrepreneurship, humor, and creative vision for what HSU can become is why he was so strongly supported by those he spoke with on campus. We are ecstatic about his willingness to join the Lumberjack family and to make Humboldt his home."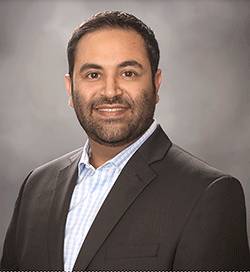 Roohparvar comes from Arizona Western College in Yuma, Arizona, where he served as the VP for Finance and Administrative Services, overseeing the accounting, finance, risk management, police department, procurement, and auxiliary business for the entire district.
During his tenure, he oversaw a multi-million dollar local property tax rebate to the community, perpetual savings for the college, created and led a local business incubator, and led committees to oversee the transition of new strategic directions for the college, including the creation and delegation of a $35 Million revenue bond for district improvements. During his tenure he received the President's Challenge Coin for Superior Performance.
Prior to that, Roohparvar served as the CFO of Milan Institute (a vocational school group with campuses in four states), and the Controller and Director of Business Office for Unitek College/Unitek Education in Fremont, California.
Roohparvar holds a B.A. in Business Management Economics with Accounting Emphasis from the University of California, Santa Cruz, an M.B.A. with a dual concentration in Finance and Supply Chain Management from University of La Verne, and is currently earning his Ed.D. in Organizational Change and Leadership from the University of Southern California.
He currently serves on an advisory board for Diversity, Equity, and Inclusion of the National Association of College & University Business Officers.
"I aim to make decisions with the primary intention to better serve our students, create greater access to education, value our faculty and staff, and support our local community," says Roohparvar. "The HSU budget is a primary area of focus that will take much analysis and patience to make recommendations for reduced impacts. I look forward to conversations with stakeholders to create collaborative and creative solutions."
Roohparvar will be joined by his wife Jessica and sons Shirzad and Shervin. In his spare time, he enjoys traveling (pre-COVID-19) and working on cars.
"I look forward to moving back to California and living in one of the most beautiful places in our country," he says. "I hope to get involved with local community nonprofits and volunteering where I am best suited to contribute most."