Steven Smith, an HSU alumnus, has been named Dean of the College of Natural Resources and Sciences (CNRS).
Image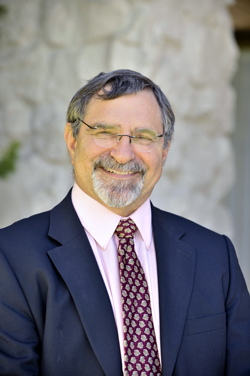 Prior to his appointment, Smith served as Interim Dean of the college for three semesters, as Interim Vice Provost for one year. He came to HSU in 2001 as Associate Dean for CNRS.
"As an alumnus, this university had a huge formative impact on me and my ability to further my education and my career," Smith says. "As Dean, I want to continue to provide that kind of educational experience. I'm honored and humbled, and I look forward to helping lead the college in that direction."
In addition to maintaining the quality and variety of existing programs, Smith hopes to increase the visibility and structure of marine sciences. "We're working out a way to unify our various marine programs," he says.
By examining and assessing the way science is taught in the college, Smith also hopes to work with faculty and staff to increase inclusivity, provide and strengthen student support systems and find ways to create positive impacts on graduation rates for the college. A key element in maintaining excellence in academics and student support, Smith says, is working with an excellent team of faculty and staff within the college.
"When I was a student here, I had absolutely fantastic professors. They were people who really knew how to teach," Smith says. "I think we still have those professors, though their names may have changed. We have outstanding faculty and staff. We have capable students. It's a really exciting group of people."
Smith received his Ph.D. in Wildlife and Fisheries Sciences from Texas A&M University and taught in the Department of Biology at Texas A&M University, Kingsville for several years. In addition to serving as department chair in Kingsville, he served for two years as Associate Vice President for Academic Affairs.