Image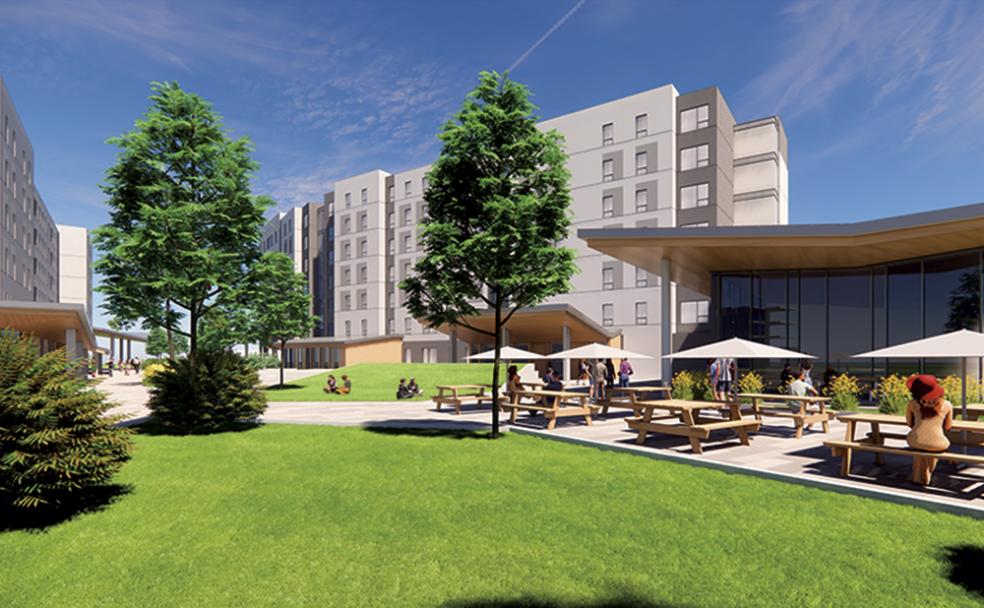 A new Cal Poly Humboldt housing project has been approved by the California State University Board of Trustees, with construction slated to begin in February.
A new Cal Poly Humboldt housing project has been approved by the California State University Board of Trustees, with construction slated to begin in February. The facility will house 964 students and Phase I will be ready for occupancy in Fall 2025.

The project, which will be built at the former Craftsman Mall site about a mile north of Cal Poly Humboldt's main campus, comes as the University is adding new academic programs and increasing enrollment as part of its polytechnic transformation. 

The project was made possible by the historic $458 million state investment in the polytechnic effort approved by the Governor and Legislature in 2021. It represents a vital investment to fuel a truly modern polytechnic education in Northern California, and will help to address much-needed housing in Humboldt County. 

The housing complex will include two buildings providing a total of 964 beds in apartment-style spaces, increasing University-owned student housing by nearly 50%. Shared community areas include study rooms, student lounge and multipurpose rooms, fitness space, café/retail space, indoor bicycle parking, and residential laundry. The project also includes administrative offices and apartments for housing staff. By incorporating the Higher Education Student Housing Grant programs, the project enables Humboldt to further demonstrate its commitment to affordable and high-quality student housing.

Exterior site features include green space, recreational facilities, and outdoor barbecue area. The project will also include 340 surface parking spaces, including electric vehicle-ready parking spaces and covered bicycle parking. To minimize the impact of the building height on the surrounding neighborhoods, the buildings will be taller at the center and step down in height along the perimeter of the site. Neither building will exceed 75 feet in height.

The project is designed to achieve Leadership in Energy and Environmental Design (LEED) Gold certification, and will be construction type 1A, which is the highest level of fire protection under the California Building Code. Planned sustainability features include high-efficiency irrigation, water-efficient plumbing, energy-efficient and CalGreen-compliant lighting and appliances, and durable exterior building materials. Energy Star appliances and LED lighting and controls will be used throughout the project, and on-site solar energy production will be provided.

The project site has been designated by the City of Arcata as an infill opportunity zone for high-density residential development in the City's 2019 Housing Element and in updates to the City's General Plan that are currently in preparation. By building at that location, Cal Poly Humboldt will be able to provide significant new student housing within about a mile of the main campus. 

Cal Poly Humboldt was designated the state's third polytechnic institution on January 26, 2022. The University is adding an anticipated 27 new academic and experiential programs by 2029, with 12 launching this fall. The University is also building a number of important new facilities, including the newly approved housing project at Craftsman Mall, a new engineering and technology building, and a sustainability and microgrid center. 

More information is available on the student housing project website.

More information about the broader polytechnic transformation is on the polytechnic website.