Last spring, senior business students formed Humboldt State Business Consulting; a class run like a business, as part of Professor Nancy Vizenor's Small Business Consulting Class, or BA 417. This fall, the current group of students will work with their first clients.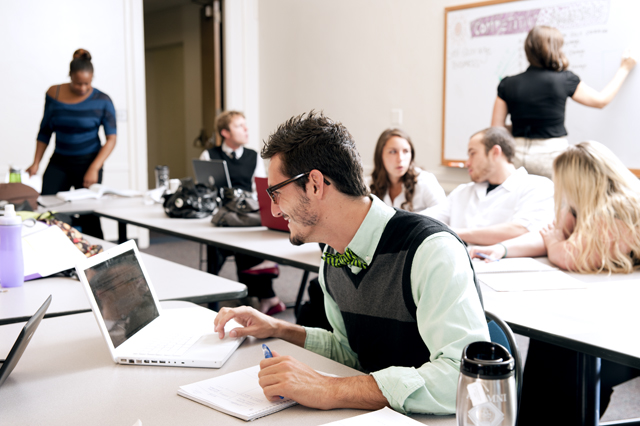 The class of 18 business seniors is working with six small businesses from the local community. This semester, the focus of the class is on developing business plans. Students will research their clients' industries, look at competitive practices, study the customer base, evaluate the businesses' organization and management and integrate social, environmental and economic sustainability as it applies.
By the end of the semester, students will turn in professional business plans. Clients will also be invited to campus for final presentations. While payment for services isn't required this semester, clients are encouraged to donate to the School of Business to help fund this and other valuable programs.
This kind of hands-on work with real clients is invaluable, Vizenor says. It will give students a chance to apply the lessons they've learned in traditional lecture courses, while also giving them useful work experience.
"Working with clients is an art. It takes practice," she says. "I never had experience working with clients when I was in school. Interacting with clients and producing professional reports is great experience, but it also builds confidence. That's irreplaceable."
Among the first clients are Evan Schwartz ('08, Business Administration) and Megan Krebs ('08, Business Administration). The couple, which met at HSU, is seeking a business expansion plan for their natural and organic grocery store, the McKinleyville Central Market, which opened in July 2010.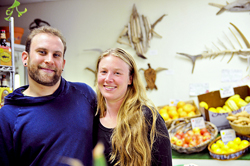 Schwartz and Krebs, McKinleyville residents, noticed the need for a natural and organic food store in their town. Often, they'd end up driving to Arcata for small purchases to get the kinds of food and products they wanted to provide for their family.
As a student at HSU, Schwartz did a business study for an Arcata-based grocery store. The in-depth report he produced gave him insight into owning and operating a natural foods store. After graduation, with a little startup capital, a lot of elbow grease and a fierce entrepreneurial spirit, the two decided to fill the community need themselves.
The grocery store offers a variety of natural foods and supplies including organic produce, organic meat, locally roasted organic coffees, gourmet chocolates, organic beer, natural health and beauty products, natural and sustainable household products and freshly baked bread from local Brio bakery, daily.
"We're selling food we would eat ourselves. No high fructose corn syrup, no genetically-modified produce, no dangerous chemicals," Krebs says. "Neither of us had real grocery experience. But we knew what we liked and had good customer service backgrounds."
In addition to helping customers stay healthy and happy, Krebs and Schwartz hope to help grow a healthy, close-knit community as well.
"It would be really nice to help build a town center, a place for music, art, a community garden," Schwartz says. "We could help create the vibe in McKinleyville we want for our own family."
Growing their small business is one of the first steps they see in making that dream a reality. And when the opportunity to work with students to plan that expansion came up, the couple signed on.
Vizenor, who also taught Schwartz, is proud to see the cycle of business students and local businesses supporting each other. "Moving into the future, we need to do more of this. It needs to be something we consider in our teaching and our classes," she says. "Let's replicate it 100 times over."