Cal Poly Humboldt has released the 2020 Safer Campus Survey, which reveals incidents of harm and also demonstrate the success of student-led intervention strategies.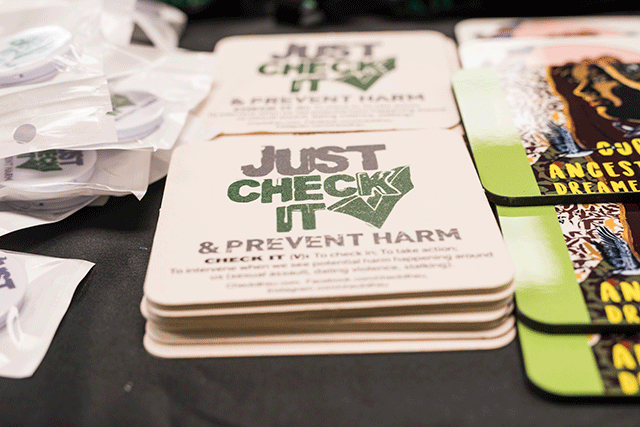 Cal Poly Humboldt has released the results of a survey that reveal incidents of harm and also demonstrate the success of student-led intervention strategies.
The 2020 Safer Campus Survey asked current students about experiences of stalking, harassment, sexual assault, and intimate partner violence on or off campus. Administered by Cal Poly Humboldt's Sexual Assault Prevention Committee (SAPC), the survey was previously conducted in 2013 and 2016. The recent study marks the first time qualitative and quantitative data about bystander intervention have been collected since Humboldt's bystander intervention program, CHECK IT, began in 2014.
"The survey is an honest and transparent assessment of the rates of harm and illustrates that sexualized violence is a serious issue here as it is on college campuses across the nation," says Maxwell Schnurer, a Communication professor and the chair of SAPC, a group of faculty, staff, students, law enforcement, and community partners who work toward ending all forms of sexualized violence. "The survey also shows the growing capability of our students to interrupt harm and the need to invest in resources to help prevent and respond to sexualized violence."
Based on anonymous responses from 669 University students, the 2020 survey reveals:
–About 17% of cis women, 13% of cis men, 36% of trans* students, as well as 13% of students who did not specify their gender, reported experiences of sexual assault.
– 128 students gave relationship information about the individual responsible for the harm. Of these, 41% indicated they were in a dating or hooking-up relationship with the responsible party, 34% identified them as a friend, and 26% indicated they were strangers.
– 69% of respondents did not report incident(s) of harm to the police or campus officials.
Among the notable findings is evidence of CHECK IT's positive impact on the campus community. Recognized by the White House in 2016 for its accomplishments, the program empowers students to challenge and disrupt harm when they witness potential moments of sexual assault, dating violence, and stalking. It provides the campus community with multiple methods of practical intervention that match people's unique personalities, identities, and communication styles.
Of the 203 students who witnessed one or more potential moments of harm:
– 67% reported intervening one or more times.
– 41 students also shared details of intervention at parties, in public spaces, on campus, and in the community by directly interrupting moments of harm, getting help to interrupt moments of harm, and creating a distraction.
In addition, 92% of survey respondents indicate that they believe CHECK IT is an important campus program. One student shared, "CHECK IT was definitely one of the reasons I decided to come to Humboldt, because I know how prevalent sexual harm is in institutions and to know there is a group on campus that works to prevent that and spread a message of consent was very empowering and encouraging."
Sexual harm is still experienced by specific genders unevenly. More cis women experience social media harassment, for instance, and most students who reported experiencing sexual harassment were transgender.
Schnurer says specific data is critical for understanding and meeting the needs of the campus. "Honest information about who is harmed on campus gives us a chance to build stronger prevention interventions. We can also train faculty and staff in better ways to respond to student reports, embed anti-violence work in orientation, and collaborate with campus partners to respond in a survivor-centered manner."
Go to Cal Poly Humboldt's Title IX & Discrimination, Harassment, & Retaliation Prevention page to read the report and find a list of resources. For questions about the survey and details about the work of the Sexual Assault Prevention Committee, contact Maxwell Schnurer at (707) 826-3282 or mds65@humboldt.edu.
Cal Poly Humboldt's Campus Advocate Team is staffed by The North Coast Rape Crisis center to provide free and confidential support services and resources for Humboldt students. For immediate assistance, the Team hotline is available 24/7 at (707) 445-2881. Go to the Stop Rape: Response & Prevention for a comprehensive list of resources.