This October, Humboldt State senior Melanie Zhao was named a winner in Zumiez' "Stand Up Campaign," a nationwide contest for activism in the arts.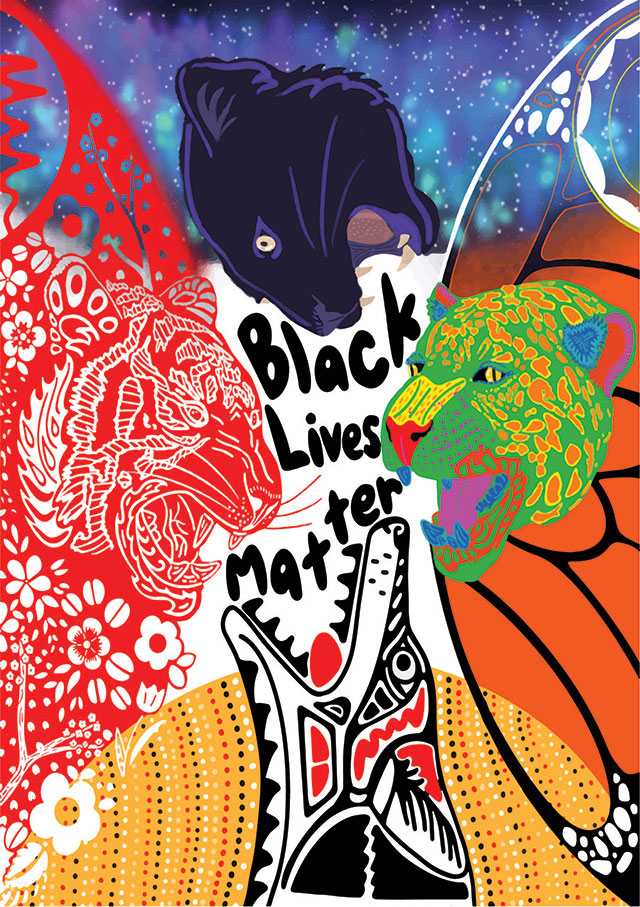 Zumiez, a major apparel brand with more than 700 stores worldwide, partnered with Amplifier Art to rally artists to create for social change. Zhao's artwork, inspired by the Black Lives Matter (BLM) movement, has been projected on buildings across major cities from New York to Seattle.
"Art is a powerful platform for social change because it creatively expresses our emotions and thoughts," says Zhao. "This piece is my way to process what is happening, what has been happening, and what continues to happen toward Black, Indigenous, and people of color." She created the design, which features animal heads symbolizing diverse cultural identities, in July, and was notified by Zumiez that she was named a winner last month.
A Biology major with a concentration in Ecology, Zhao is also a talented graphic designer who enjoys blending her passion for art and science. Her interests include pollinators, scientific communication, and creating illustrations that reflect her values. For her BLM piece, Zhao used the iPad app Procreate and then transformed the file into a vector in Adobe Illustrator.
"I have always enjoyed using creative outlets to express myself, like doodling or molding ceramics," explains Zhao. "Over the last three years at HSU, whether it was drawing in my Botany lab notes or using design tools to reach a larger audience, art became a big part of my life."
Outside of class, Zhao is the Graphic Design Coordinator for CHECK IT, an HSU student-led group that focuses on promoting consent-centered culture and preventing sexual violence.
"Art is a central part of CHECK IT and Melanie's contributions are such a gift to the movement," says CHECK IT Program Coordinator Mary Sue Savage. "She's an incredible artist who continually inspires those around her and brings so much creativity to the CHECK IT team."
The Zumiez/Amplifier campaign asked artists across the country what they are willing to stand up for. As both an artist and a student activist, Zhao says that she believes in "listening, speaking out, and fighting for change in any way that you can, however big or small."
To learn more about Melanie Zhao, visit her website at melaniezhao.weebly.com or follow her on Instagram @mel_onart.