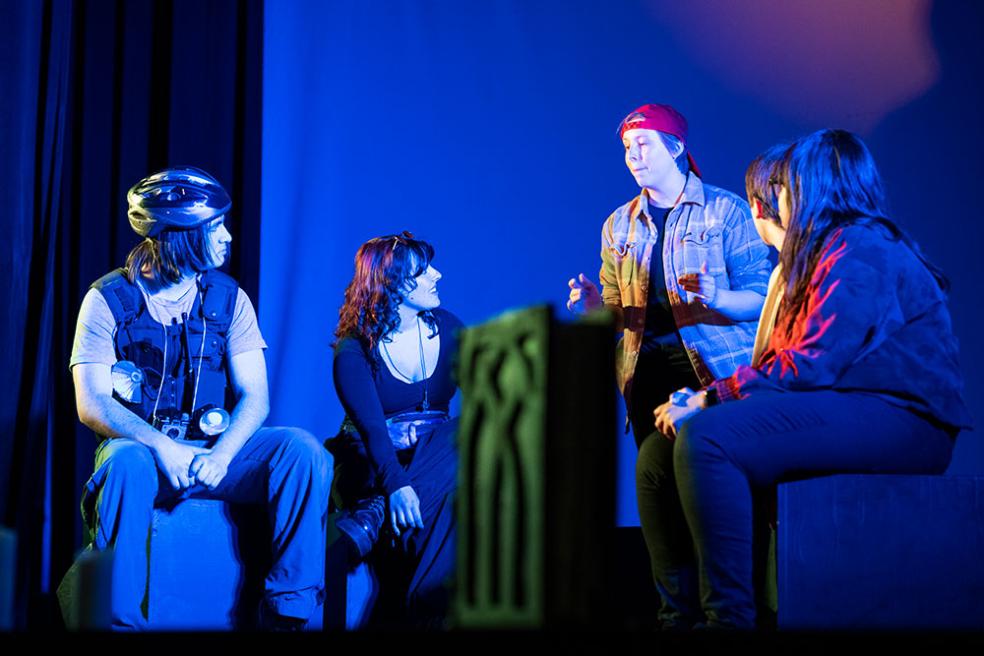 Ghosts, mystery and curiosity—these spooky phenomena are explored in the original play Curious Company, which Humboldt students created, and performed at local high schools.  
Six Cal Poly Humboldt students developed Curious Company, and took it on tour to high school audiences this April. It's the first touring play for the Theatre Arts Department since 2015. The tour kicked off with a performance at South Fork High School, followed by shows at Arcata High School and McKinleyville High School. Final performances are at the Gist Hall Theatre on campus from April 28-30. 
Humboldt students from disciplines including Elementary Education, Biology, and Film designed the play—including the stories, the run-time of the show, and the engagement aspects—to resonate with high school audiences. 
Curious Company features stories based on real-life accounts, while also blending in historical info, multiple perspectives, characterizations, humor, and audience participation, says Troy Lescher, Theatre Arts professor. "All of these are in good spirits. The show is a fun, thoughtful, and non-alarming 55-minute celebration of ghosts, supernatural, and the paranormal." 
Creating a safe, responsible, thoroughly-researched script was a priority for the cast when making the show, explains Kyra Cherry, who plays a nerdy scientist in the play. "Keeping all of this in mind we took some ghost stories and personalized them in our own ways to make them best fit to the characters we created. It's been a long journey and a lot of work but it's been so rewarding to see it pay off on the stage after starting completely from scratch."
Another priority for the cast was making the audience laugh, says Jayden "Spooky" Rocha. "I wanted to add humorous elements to it, and it was very rewarding to receive audience reactions to our performance."
The show is interactive, and changes after each performance based on audience feedback. 
The cast asks for suggestions from the audience, and together they decide which suggestion is creepiest, says Abby Wetmore, assistant director and stage manager. "It gets the audience involved, ramps the energy up, and gets people excited for our show."
The audience is also asked to stand or raise their hands at certain points in the show. Additionally, one student is invited onstage to share a ghostly story of their own. A post-performance discussion includes a Q and A, and a chance for high school students to learn about the creative process behind the play. 
During the discussion, audience members give feedback, and the show evolves as a result. Watching this evolution is one of the most exciting things about making this play from scratch, says Wetmore. "Another great part has been bringing it to the high schools around the area, especially ones that don't have theater or art programs, and inspiring them." 
Seeing the final outcome of the script has given Cherry a new kind of self satisfaction. "It's boosted my confidence to seek out other new experiences."
Lescher hopes the experience sparks interest in the University's Theatre Arts program. It seems to have done just that, as some audience members are even sticking around after the show and connecting with the cast, he explains. "It gives high school audiences a chance to see themselves possibly being onstage, being in an ensemble, and being part of the adventure of a touring production someday if they come to Cal Poly Humboldt."
"It's important that the Theatre Arts program continues to reflect on its student-learning while also reimagining and inspiring new and meaningful learning opportunities for our students," Lescher adds. "It's particularly special if these opportunities can serve the community."