Current students in Humboldt State's Indian Natural Resource, Science, and Engineering Program are continuing a tradition of undergraduate research excellence.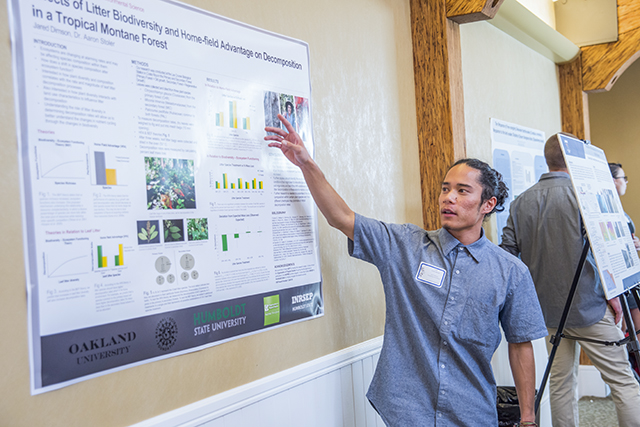 Following up an extensive list of honors, internships, and achievements during the 2013-14 academic year, three INRSEP students were recently recognized for outstanding research presentations at the Society for Advancement of Hispanics/Chicanos and Native Americans in Science National Conference in Los Angeles. Jared Dimson (Environmental Sciences), Jilma Rachel Guinea (Ecology/Evolution), and Tina Nguyen (Other Biological Sciences) each gained top honors in their respective categories.
Dimson's project focused on how leaf litter and changes in plant species affect ecosystems. Guinea's efforts focused on understanding suitable habitats for Harpy Eagle reproduction, and Nguyen's research addressed habitat and dietary requirements of the North American Porcupine.
Last year in total, 14 research presentations were honored at a variety of conferences nationwide. Among them were two separate projects developed by student Keith Parker.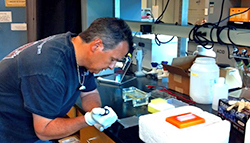 Most recently, Parker was selected by the Environmental Protection Agency to attend the American Indian Science and Engineering Society's National Conference, held Nov. 13-15 in Orlando, Florida. "It was quite a nice surprise since I hadn't applied for any type of grant," Parker said.
His selection for the conference isn't the first time Parker was selected for professional development and research. A biology major at Humboldt State, Parker was chosen by the U.S. Department of Energy/Bonneville Power Authority to participate in an internship he completed last summer, working in Portland and at the Cle Elum Supplementation and Research Facility in Washington state.
Parker draws upon memories of fishing the Klamath River with his grandfather as motivation for his goal of watershed restoration. Just as important as his observation of the river's changes to its current state were the history lessons rooted in culture and tradition.
"Indigenous people have had experience with climate change in the past," said Parker, who is descended of Yurok, Hupa and Tolowa peoples. "There are remains off the Channel Islands that indicate the end of the last ice age. Our ancestors went through it, and we're prepared to ride it out because of our traditions."
Parker's continuing efforts were documented in an article titled A Fish Story, published in the AISES e-newsletter this fall.