Last spring, a few students in Kathryn McDonald's _Intertidal Ecology_ class were studying sea stars at Trinidad Bay when something unusual started happening.
"They had collected dozens of sea stars for their laboratory projects, and almost overnight, many of the animals began losing arms." McDonald recalls. "It was alarming."
Image
The creatures were afflicted by sea star wasting disease, a condition that causes starfish to fragment, lose their limbs and die—all in a matter of weeks.
Along with marine scientists in California and around the world, McDonald and her students are now studying causes of the mysterious disease, which has affected sea stars worldwide. Preliminary surveys in Trinidad show that 10-20 percent of ochre stars could be affected. Researchers at UC Santa Cruz have already established a monitoring project to track the species along the eastern Pacific.
Since September, McDonald and a team of six undergraduate and post-baccalaureate students have been working with sea stars at HSU's Telonicher Marine Lab in Trinidad in hopes of understanding how changes in the environment affect incidence of the disease.
The team includes Taylor Daniels ('13, Marine Biology and Zoology), Jordan Smith ('13, Marine Biology), Kristen Orth ('13, Environmental Biology), Jacqueline Haggerty ('13, Zoology), Mary Colleen Hannon ('15, Marine Biology) and Jana Hennesy ('13, Marine Biology).
"We'd like to determine whether what we are seeing is truly a contagious epidemic, or something that many sea stars already have—a common infection—that becomes lethal under certain conditions of temperature change or other stress," McDonald says.
Image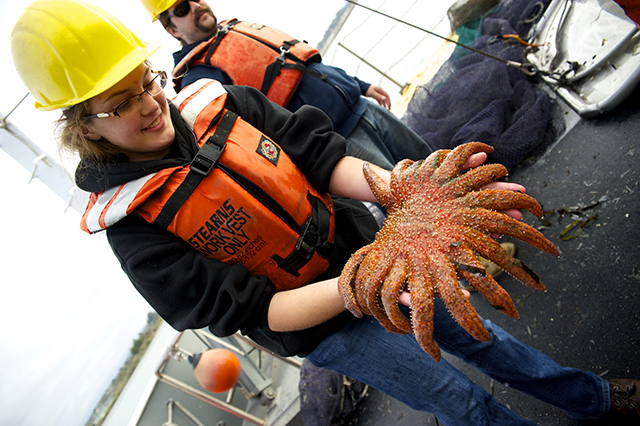 Sea star wasting disease or wasting syndrome has been reported in the western Atlantic, the Mediterranean, British Columbia, Washington, and up and down the coast of California. In the 1970s, Gulf of California populations of Heliaster were decimated as a result of a wasting event, McDonald says.
Although some researchers believe the disease is triggered by short-term climate changes like El Nino events, there is no clear explanation as to how and why it occurs. Lab and field studies in British Columbia have shown a connection between warmer temperatures and the rate and severity of the infections that lead to die-offs.
To get answers, McDonald and her students are looking at how water and air temperature affect mortality rate and the progress of the disease in one common North Coast species, the ochre star (Pisaster ochraceous). If temperature turns out to be an important factor in disease occurrence in the local stars, the students plan to conduct recovery experiments, exposing sea stars to different water temperatures to see whether they're able to survive and regenerate their lost arms.
So far it looks as though a one-degree rise in temperature—to about 13 degrees Celsius—may be enough to cause ochre stars to develop a greater number of lesions, McDonald says. Affected sea stars may "self-amputate" their arms and eventually die, or deteriorate without any loss of arms.
McDonald and her students hope their research will help answer some questions and predict the extent of future die-offs.
"We know from that past that entire populations have disappeared as a result of this disease," McDonald says. "What if we did have an El Nino event at a time when stars already showed high rates of infection? Would we still have Pisaster on our shores, and for how long?"
For more information about wasting syndrome and monitoring efforts in progress in California click here.