HSU students who volunteer through Youth Educational Services are keeping the spirit of community service alive and well in creative and remote ways during the pandemic, such as a pen pal program.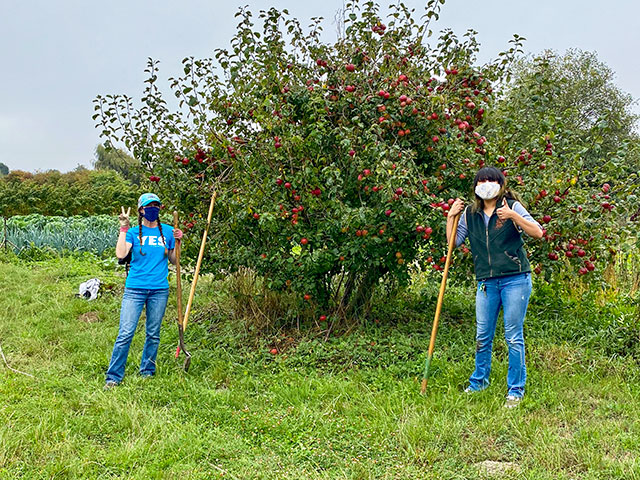 As the global pandemic continues to disrupt daily life, HSU students who volunteer through Youth Educational Services, or Y.E.S., are keeping the spirit of community service alive and well with remote and virtual connections.
Since 1968, Y.E.S. students at Humboldt State have initiated over 70 programs to address community needs. Today, many of the organizations supported by HSU's Y.E.S. volunteers are elementary schools, currently absent of children, and senior centers, whose elderly residents are disproportionately vulnerable to the coronavirus.
>> Related Story: 50 Years of Community Building with Y.E.S. <<
Despite the challenges of virtual volunteerism, Y.E.S. coordinator Melea Smith says that HSU students are staying connected through old-fashioned letter writing, and new virtual mediums, as the global pandemic continues to disrupt daily life.
"It was hard to imagine pulling off a year of virtual volunteering last spring," explains Smith. "But with flexibility, creativity, and the support of campus and community partners, we've made great progress."
With collaboration from the Humboldt County Office of Education, along with HSU's Center for Community Based Learning and Early Outreach Admissions, ConnectED kickstarted the Pen Pal Project this Fall. The project creates an opportunity for college students and local youth help one another cope with the social isolation of the pandemic.
In normal semesters, Smith oversees 10-14 volunteer projects led by Y.E.S. directors, who are typically upperclassmen with substantial volunteer experience. Students who make a semester-long commitment can either earn a unit of credit or enroll in a Service Learning or Academic Internship course with Y.E.S. as their field placement.
This Fall, Y.E.S. leaders organized volunteers from five established Y.E.S. programs (Art Recreation Theater, Environmental Education, Hand-in-Hand, Puentes, and the Youth Mentoring Program) to pilot the Pen Pal Project. Each Y.E.S. volunteer exchanges letters with 1 to 2 pen pals from the fifth grade class at Pacific Union Elementary in Arcata. Smith says some teachers print out the letters for each student to take home, while other fifth grade classes are adept at using digital tools like Google Classroom.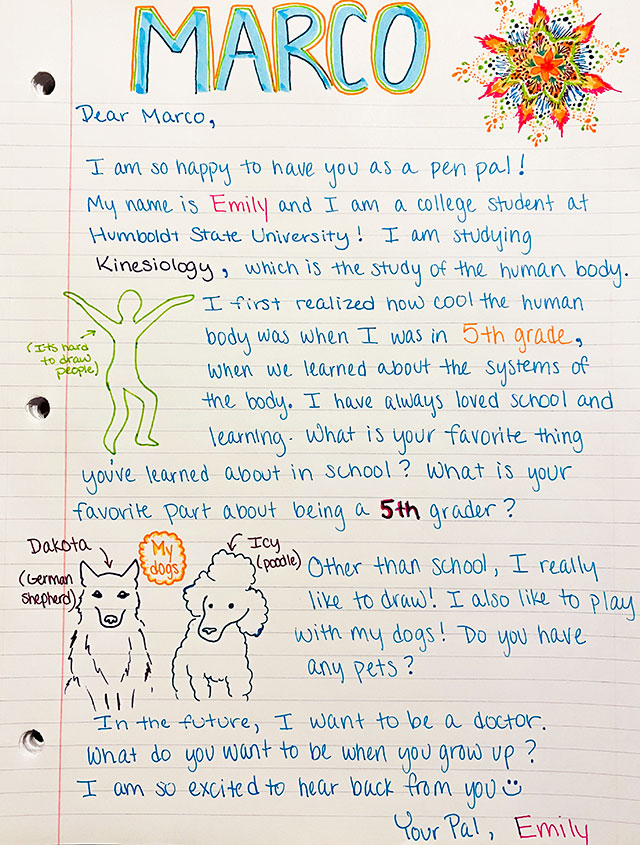 "The virtual requirements of this year has forced us to come up with creative new ways to connect with youth in our community," says HSU junior and Y.E.S. program director Andy Padilla. Along with co-director Molly Schoberl, also a junior, Padilila runs the Y.E.S. Environmental Education program. In addition to keeping up with pen pals, Y.E.S. volunteers created interactive science packets for the youth at Jefferson Community Center in Eureka.
"In their letters, our volunteers reassure the kids that we'll make it through these tough times together," says Schoberl. "In return, they send us energetic letters that put a smile on even the most stressed college student's face."
Similarly, under the Y.E.S. Golden Years project, HSU students have partnered with 11 seniors living at Silvercrest Residence in Eureka.
"It's a great way to bridge the age gap and provide companionship to seniors, who are so isolated right now," says Smith.
Overall, a total of 83 students, which include 17 student leaders and 66 volunteers, have participated in virtual volunteer projects in Humboldt County this Fall semester. Additional programs include the Queer Mentoring Advocacy Program, the Juvenile Hall Recreation Program, and Study Buddies, where volunteers tutor elementary students via Zoom.
"I've been inspired by the innovation and enthusiasm of our students," says Smith. "They are still committed to making a positive difference in the community in the face of virtual learning and the many challenges of the pandemic."