A new study shows Humboldt Bay to be one of the key sites in the western hemisphere for dozens of species of shorebird including western sandpiper, marbled godwit, and long-billed curlew.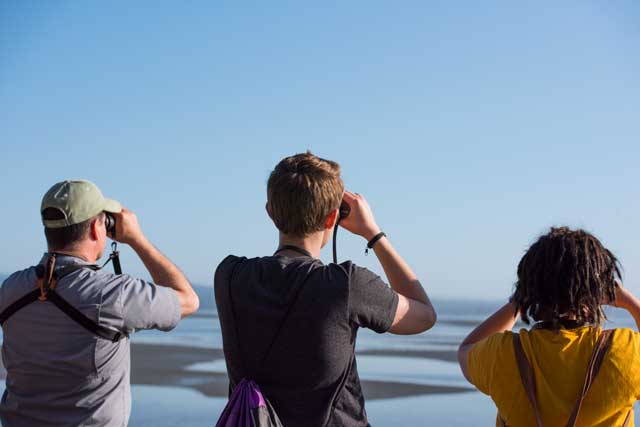 The study, conducted by HSU Wildlife Professor Mark Colwell and local birders, counted 500,000 shorebirds in the bay over six weeks in the spring, a far higher number than had been previously documented.
The study, co-authored by research assistant Elizabeth Feucht ('16, Wildlife) and published this month in the international journal Wader Study, was supported by Audubon California and other collaborators.
Colwell's research stemmed from a growing recognition of the importance of selected sites along the flyways, which funnel waterbirds between northern breeding areas and southern wintering sites. Several international organizations rate the importance of wetlands and bodies of water around the world, Including the Western Hemisphere Shorebird Reserve Network (WHSRN).
Colwell's intention was to give WHSRN solid data about bird populations on the bay, improving their assessment of its importance, and giving lawmakers and conservation groups better information for creating policy and influencing decisions. Audubon California hopes the data will upgrade scientific understanding of Humboldt Bay's importance for migrating birds.
The count was a complex undertaking. Between March 31 and May 13 of this year, Colwell and 14 other teams of observers conducted four surveys on Humboldt Bay. They estimated the abundance of birds in large flocks and noted the bird species.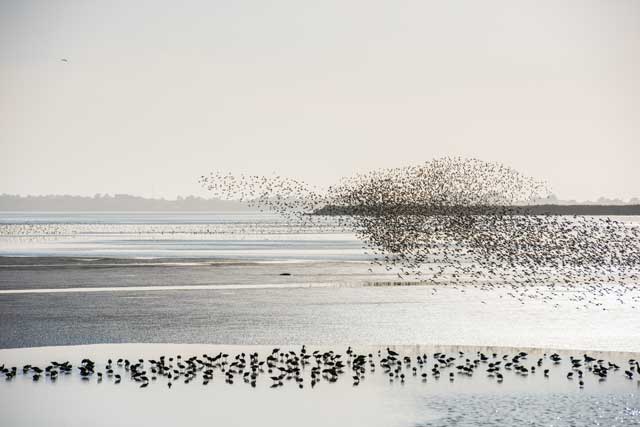 They chose that particular time of year because a number of shorebirds—particularly western sandpipers—migrate from as far south as Peru north to Alaska, where they breed for the summer. A similar effort to count shorebirds took place 25 years ago, and consisted of single counts timed to capture the peak of migration. Audubon California and Colwell, who worked on that previous count as a new HSU professor, wanted more recent information over multiple days.
Even with new methods incorporating multiple counts, Colwell says the half-million estimate is conservative, and was probably 90 percent western sandpipers. With additional funding from Audubon, he'll continue the efforts this winter and next summer, giving a more complete year-round picture of bird populations on the bay. HSU students will take part in the winter study.
Colwell says there is much to be learned about the bay, including its capacity to support large populations of migrating and locally breeding birds, all affected by what humans do to compromise the quality of bay habitats.
"The results of our study indicate that loss or degradation of high quality foraging habitats on Humboldt Bay may impact large numbers of shorebirds at a time of year when they need the energy to complete migrations and breed," Colwell says. "My hope is that these data will be used to inform decisions made on development of the bay."