The melody may have sounded like a cacophony of random notes, but to the musicians, it may as well have been Bach. Using rubber mallets and a little imagination, the preschoolers had managed to create a schoolyard symphony.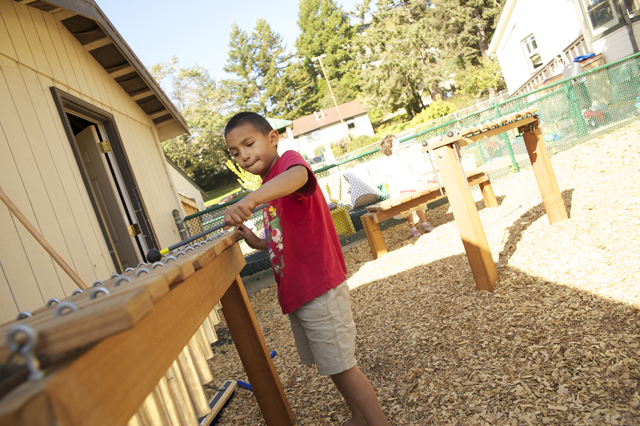 Creativity and collaboration are at the heart of an outdoor music area recently installed at the HSU Children's Center. The space—which includes a marimba, an akimbira and an amadinda—is designed to promote social, cognitive and emotional development in preschoolers ages 2 ½ to 5.
"They say that children have 100 languages and music is simply one of them," says Children's Center Director Susan Rosen. "Music promotes collaboration and it also helps children develop fine motor skills, which is especially important for those who have a musical learning style or who wouldn't be exposed to music otherwise."
The HSU Children's Center serves over 100 children of Humboldt State students, staff and faculty every year. Located at the corner of 14th and A Streets on campus, the program employs around 60 student assistants and supports the academic goals of service learning students, volunteers, observers and field placement candidates from both HSU and College of the Redwoods.
The center purchased the wooden, waterproof instruments earlier this year with alumni gifts to the Humboldt Loyalty Fund. Programs benefited by the Fund span the university and include student scholarships, faculty research, academic programs, the library and special projects.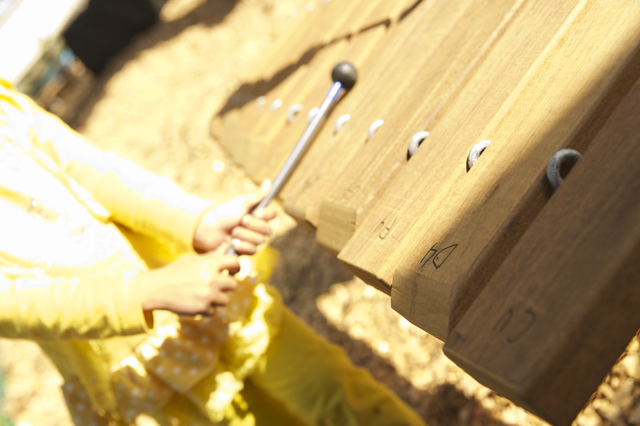 Located in the west yard, the instruments—native to Africa and South America—add a musical component to the center's existing outdoor classroom, which includes areas for reading and art, as well as a community garden. Considered a local model in preschool education, the space supports child-directed play and exploration, diversity, environmental responsibility and community involvement, Rosen says. "The idea with the outdoor classroom is that anything that can be done inside can also be done outside."
In addition to the outdoor leaning area, the center's preschool classroom is a valuable resource for child development majors, local high school students and education professionals, Rosen says.
The Children's Center is accredited by the National Association for the Education of Young Children. HSU offers several academic options to students interested in child development. The College of Professional Studies offer a Bachelor of Arts in Liberal Studies Child Development (LSCD) and a Bachelor of Arts in Liberal Studies CD Elementary Education (LSCE), as well as minors in Early Childhood Development, Family Studies and American Sign Language.